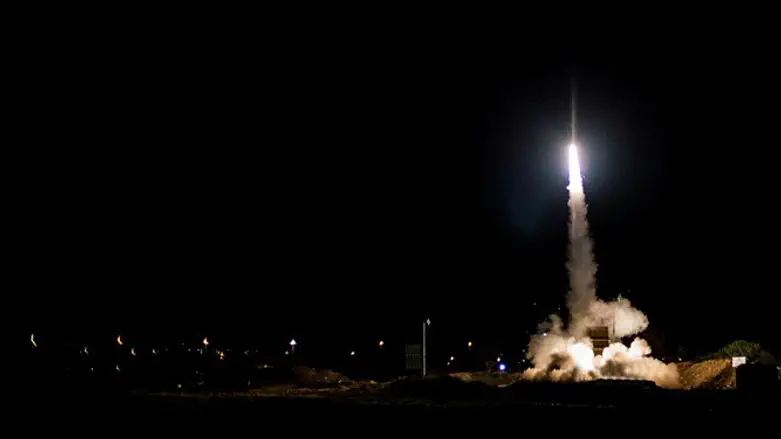 Iron Dome
Kobi Richter/TPS
A series of "Red Alert" incoming rocket sirens were sounded on Sunday evening in the Hof Ashkelon Regional Council, the Shaar Hanegev Regional Council and the city of Sderot, sending thousands of Israelis into protected spaces.
At first it appeared that a heavy barrage of rockets had been fired by terrorists from Gaza, but the IDF made clear that the sirens were triggered by the firing of machine guns inside the Hamas-ruled enclave.
IDF Spokesman Ronen Manelis said in a conversation with military correspondents that "no barrage was fired at Israeli territory. No rockets exploded in Israel."
Manelis added that the Iron Dome anti-missile system was used against the machine-gun fire. The IDF is now investigating why the sirens were activated.
The firing of machine guns in Gaza was part of a large exercise by Hamas terrorists which will end on Monday. In the past 24 hours, Hamas terrorists have launched at least one rocket into the sea.
On Saturday night, the Israel Air Force targeted a terror objective in a military compound in Rafah in southern Gaza, belonging to the Hamas terrorist organization.
The IDF Spokesperson's Unit said the airstrike was in retaliation for the incident in which the security fence between Israel and Gaza was damaged and there was an attempt to set fire to an engineering vehicle.