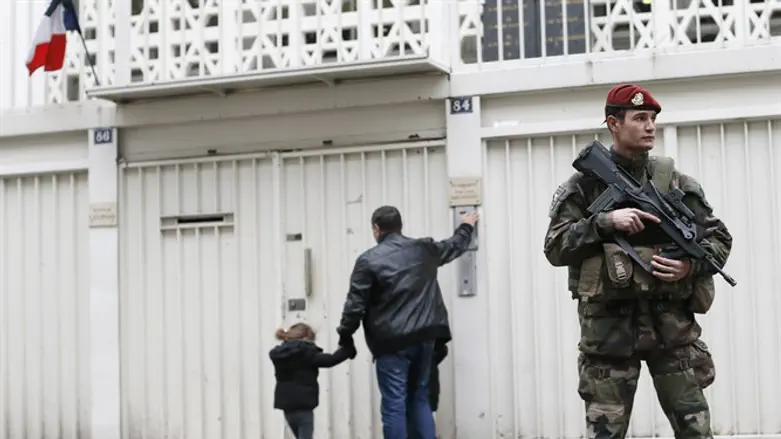 French soldier guards Jewish school, Paris
Reuters
JTA - The burnt and stabbed body of a Holocaust survivor was found in her Paris apartment, in what a watchdog on anti-Semitism said was a case reminiscent of an alleged anti-Semitic hate crime.
The National Bureau for Vigilance Against Anti-Semitism, or BNVCA, wrote in a statement Sunday that the suspected murder of the 85-year-old woman, identified by BNVCA and in the French media only as Mireille K., "is reminiscent of the crime committed against Sarah Halimi," a 66-year-old Jewish teacher and physician whom prosecutors say was murdered by her Muslim neighbor in April partly in connection with her Jewish identity.
According to the BNVCA, the octogenarian's body was set on fire Friday night. Her charred body also had at least 11 stab wounds. Police have a suspect in custody in connection with her death.
The victim was found dead in her apartment on Philippe August Street in Paris' 11th District, in the city's east near the Nation Square. She reported in the past to authorities about a man from the same street whom she said had threatened to "burn her," BNVCA wrote.
A forensic examination of the apartment showed that an arsonist started a fire in at least five distinct areas of that space, the report also said.