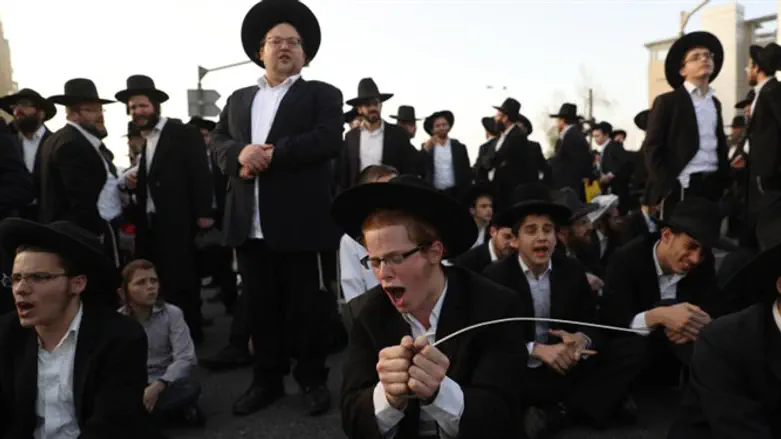 Yerushalmi Faction protesters demonstrate against draft law in Jerusalem
Yonatan Sindel/Flash90
Rabbi Azriel Auerbach, the new leader of the extremist Yerushalmi Faction, returned to Israel on Friday after spending more than a week raising money in the United States.
During his fundraising trip, Auerbach was warmly received at some of the United States' largest Litvish yeshivas, included Lakewood's Beth Medrash Govoha. According to the haredi Kikar Hashabbat website, the trip was a success, with Auerbach receiving more than $1 million from various haredi benefactors.
The rabbi has come out as the new leader of the extremist Yerushalmi Faction (Jerusalem Faction) movement after the death of his brother Rabbi Shmuel Auerbach. The Jerusalem Faction is known for opposing any cooperation with IDF draft officials, refusing to register with the IDF as Israeli law mandates, even for the purpose of attaining the draft deferrals given to all full-time yeshiva students. For the last several months, its members have embarked on large and disruptive anti-draft protests that shut down major traffic arteries.
Extremist haredi groups in Israel are often funded by the generosity of their US counterparts. In August, a haredi man imprisoned for 8 months for attacking a policeman during an anti-draft rally received a $24,000 "reward" for his long sentence from wealthy haredi donors.
During the award ceremony, the man specifically cited US communities that had contributed toward the reward, including Satmar's Kiryas Yoel and different Synagogues in Lakewood, New Jersey.