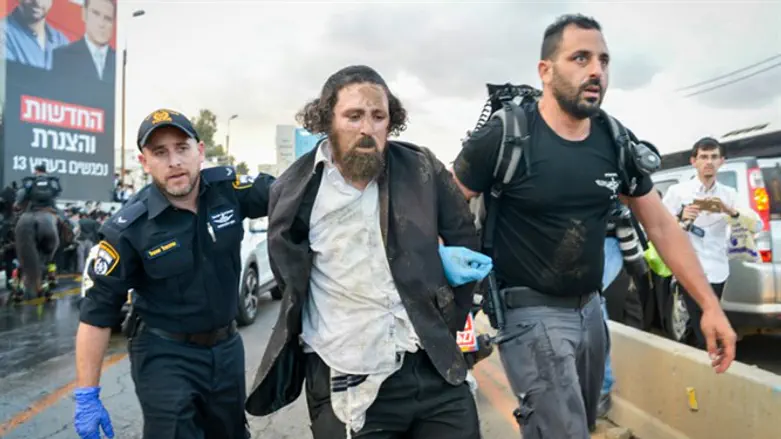 Haredi demonstrator arrested in Bnei Brak
Yossi Zeliger/Flash90
Police arrested 28 haredi demonstrators from the radical anti-draft Yerushalmi Faction movement in Bnei Brak on Thursday, after protesters took to the streets and blocked traffic to protest the imprisonment of a haredi draft dodger.
Earlier this month, authorities took Meir Bordiansky into custody, after the haredi yeshiva student was picked up at a checkpoint and arrested for failing to appear before an IDF draft board.
On Wednesday, an army court gave Bordiansky 45 days in jail, after IDF prosecutors argued that the original 20-day sentence handed down earlier this month was too lenient.
The Yerushalmi Faction organized protests in Jerusalem and Bnei Brak in recent weeks to protest Bordiansky's arrest and to demand his immediate release.
In both cases, protesters blocked traffic in the middle of rush hour, causing major delays in the two cities.
The Yerushalmi Faction, founded by the late Rabbi Shmuel Auerbach, has demanded the IDF issue blanket exemptions to all haredi men, and has rejected the present system, under which full-time yeshiva students are granted draft deferments, renewable each year.
The Faction, which has been criticized by mainstream haredi leaders including Rabbi Chaim Kanievsky, has orchestrated a series of protests and road-blocking demonstrations nationwide in recent years, and called on followers not to cooperate with draft board authorities – even for the purposes of obtaining draft deferrals.
On Thursday, demonstrators shut down traffic on several roads in Bnei Brak, including Route 4, and hurled stones at police officers.
Officers took 28 demonstrators into custody for "disturbing the peace" and violent attacks on officers, including stone-throwing.