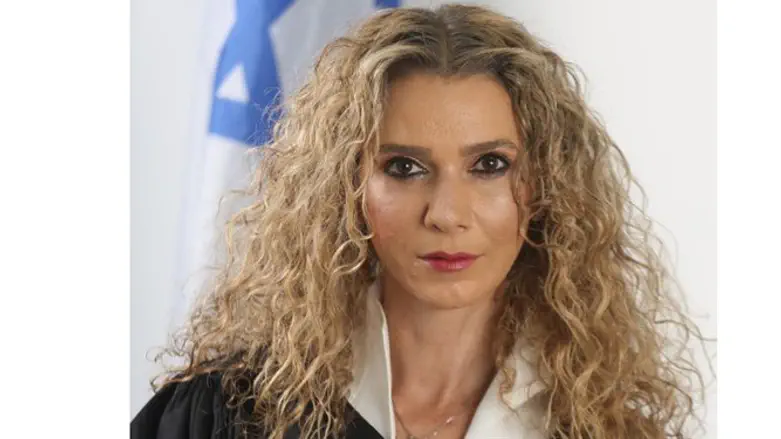 Poznansky-Katz
Judicial Authority website
Chief Justice of the Supreme Court Esther Hayut decided Thursday to suspend Judge Ronit Poznansky-Katz until the conclusion of the disciplinary proceeding in her case.

This morning, Thursday, Hayut held a hearing for Poznansky-Katz ,after Justice Minister Ayelet Shaked filed a disciplinary complaint against her on the recommendation of the ombudsman for public complaints against judges.

The proceedings come following revelations that Poznansky -Katz had coordinated an upcoming hearing with an investigator from the Israel Securities Authority, Eran Shaham-Shavit, through the WhatsApp instant messaging program.
The two discussed an upcoming hearing for suspects arrested as part of the "Case 4000" investigation, which centers on suspicions that a Netanyahu aide provided chief Bezeq shareholder Shaul Elovitch with regulatory benefits in exchange for sympathetic coverage to the prime minister and his wife on the Walla! news website, which is owned by Elovitch as well.
In the messages, the Israel Securities Authority official informed Poznansky-Katz of his agency's intention to request that several suspects' arrests be extended, telling the judge to "act surprised" when he makes the request in court.
"I'll practice looking surprised", replied Poznansky-Katz.
At the end of the hearing this morning, Hayut published the decision on the suspension, in which it was noted that the judge had arrived to the hearing with her attorney, Eyal Rozovsky.

"In the course of the hearing, the judge and her attorney repeated her request to have her sabbatical extended by agreement, and her request was rejected by me. Subsequently, the judge announced that she agreed to her suspension under section 91 of the Basic Law: The Judiciary," Hayut wrote.

"Therefore, with the consent of the judge, I hereby order by virtue of my authority under section 91 of the Basic Law: The Judiciary to suspend Judge Ronit Poznansky-Katz from her judicial office until another decision", Hayut said.