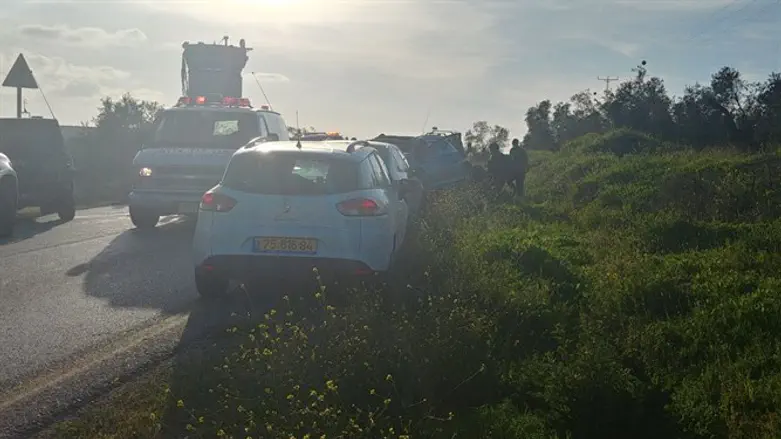 Scene of Samaria terrorist attack
Yonatan Tzitrinovich/TPS
Following the car-ramming attack adjacent to the community of Mevo Dotan in Samaria, the Coordinator of the Government Activities in the Territories, Maj, Gen. Yoav Mordechai, on Friday ordered an immediate and broad suspension on permits for the entire family of the terrorist, the IDF Spokesperson's Unit announced.
The suspended permits include 67 for employment in Israel, 26 trade permits, and four employment permits in communities, it added.
The terrorist, identified by the Israel Security Agency (Shin Bet) as 26-year-old Ala Kabha from Barta'a near Jenin, ran his vehicle into four soldiers on Friday afternoon, killing two and injuring two others.
Kabha then tried to flee the scene but was caught and taken to hospital where he is being questioned.
The Shin Bet said that the terrorist had been imprisoned in the past on security-related charges but was freed in April of 2017.
Defense Minister Avigdor Liberman said following the attack that he would act to sentence the terrorist to death, demolish his house and to punish anyone who cooperated with him.
"There is no such thing as 'lone wolf terrorism'. This is terror supported by Abu Mazen and the Palestinian Authority, which pays money to the families of the terrorists. We will stop them," declared Liberman.
(Arutz Sheva's North American desk is keeping you updated until the start of Shabbat in New York. The time posted automatically on all Arutz Sheva articles, however, is Israeli time.)