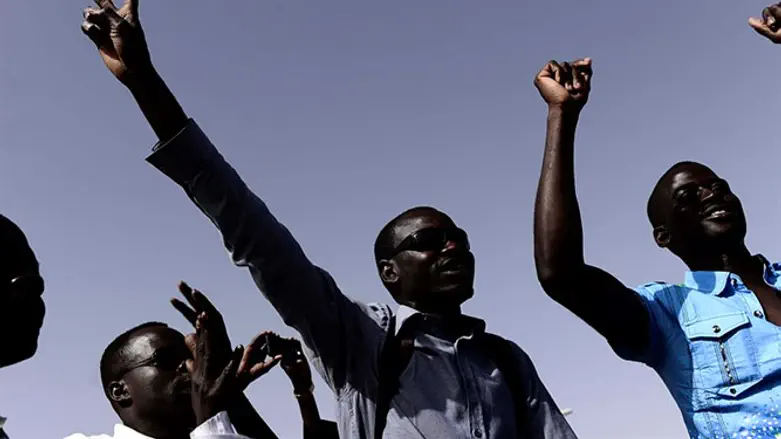 Infiltrators
Tomer Neuberg, Flash 90
The Israeli Supreme Court on Thursday froze a plan to deport thousands of illegal immigrants who entered Israel across the border with Egypt, just weeks before the program is slated to begin.
In December, the Knesset passed a government-backed plan to remove most of the roughly 40,000 infiltrators living in Israel. The deportation program was scheduled to begin in April, but has been challenged by NGOs, who turned to the Supreme Court requesting the plan be struck down.
On Thursday, the court issued a temporary order blocking the deportations of illegal immigrants to unspecified third countries until the court rules on two appeals filed by left-wing NGOs.
The court gave the state until March 26th to respond to the appeals, adding that the injunction against the deportation plan would not be lifted before the state had submitted its response.
Tens of thousands of illegal immigrants crossed into Israel over the past decade via the southern border with Egypt. Most of the infiltrators came from Eritrea, Sudan, Somalia, and other countries in northeastern Africa.
Following the construction of the border fence along the Israeli-Egyptian frontier, illegal border crossings plummeted by more than 99% - but only after nearly 60,000 illegal immigrants entered Israel prior to the construction of the fence in 2012.
In 2014, the Netanyahu government implemented a "carrot and stick" policy to reduce Israel's illegal immigrant population, then estimated at around 55,000. Under the plan, the government offered cash payments of $3,500 to illegal immigrants who voluntarily left the country either for their countries of origin or for 'third-party' states which had cut deals with Israel to accept illegal immigrants in exchange for monetary compensation. Those infiltrators who refused the offer were detained at the Holot and Saharonim detention centers.
Some 15,000 infiltrators self-deported since 2014, though some 40,000 – not including children born to illegal immigrants in Israel – remain in the country.
But in August of 2017, the Supreme Court blocked attempts by the government to deport those who refused to voluntarily leave the country, and ruled that detainees could be held at the Holot facility for no more than 12 months – essentially guaranteeing that illegal immigrants would be allowed to remain in Israel indefinitely.
In the wake of the court's decision, Prime Minister Netanyahu negotiated new agreements with third-party states, which agreed to receive not only those illegal immigrants who volunteer to leave, but also deportees.
During the first stage of the deportation plan, Israel will remove some 12,000-15,000 infiltrators, allowing women, children, and married men to remain for the time being.