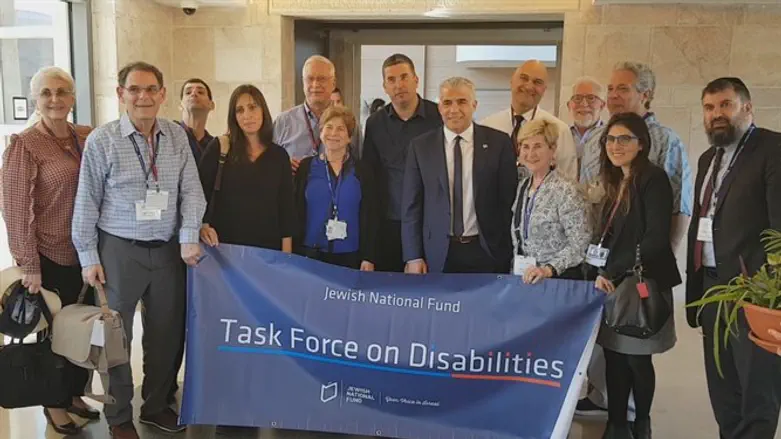 MKs and JNF's Task Force meet to discuss inclusion
Courtesy of JNF
On Wednesday, representatives of the JNF Task Force for the Inclusion of People with Disabilities met with Israeli Knesset members to promote the humanitarian goal of helping inclusion of people with disabilities become even more of a top priority in Israel.
The Task Force is comprised of lay leaders, donors, and volunteers from around the USA who are determined to make the world a better place by spreading appreciation of social diversity and teaching the importance of inclusion of persons with disabilities.
Attending the meeting were Knesset Speaker MK Yuli Edelstein (Likud), MK Yair Lapid (Yesh Atid), and MK Karin Elharrar (Yesh Atid). In the course of a fruitful discussion, the guests learned about Israeli legislature intended to benefit individuals with special needs, most notably a law obliging every government office and association to employ 5% of workers with physical or emotional disabilities. The Knesset itself was the first government body to implement this law and, at present, employs significantly more than the 5% quota.
Gary Kushner, Chairman of the JNF Task Force and well-known attorney in Washington, said, "It's really inspiring to see the Knesset enacting such legislature, hiring people with special needs and being the first to implement it - something that doesn't occur in many venues. We met some 30 employees with special needs who are happy members of the Knesset workforce, and I was profoundly impressed by this model which, I think, should be adopted in other countries around the world."
Other JNF-funded programs dedicated to the goal of improving quality of life for people with special needs include a state-of-the art rehabilitative village in Israel called ALEH Negev-Nachalat Eran; LOTEM, an association that enables people with special needs to enjoy the beauty of nature through specially-arranged field trips and making parks and hikes wheelchair-accessible; and the Red Mountain Therapeutic Riding Center in Kibbutz Grofit near Eilat, which offers weekly horseback riding therapy to nearly 200 children and adults suffering from a variety of physical and mental disabilities.
Undoubtedly, the climax of their efforts is Special in Uniform, a project funded by the JNF in conjunction with the IDF and Lend-a-Hand to a Special Child. Special in Uniform integrates youth with physical and mental disabilities into the IDF, imbuing them with pride in themselves and their abilities, and enabling them to function independently and contribute positively to society. Special in Uniform's focus is on ability, not disability, upon utilizing and emphasizing talents and capacities of people with disabilities in order to foster independence and integration into mainstream society despite physical challenges.
"Our task force came to Israel to work with our partners that help those with disabilities. We are committed to this work, and it is so fulfilling to sit with MKs who share and encourage our efforts. Ms. Karin Elharar was so encouraging in her comments to our team," Chairman of Special in Uniform in the USA Alan Wolk said. He especially thanked the MKs, and noted that the Ministry of Defense's generous support and partnership with the relevant parties are helping achieve the goal of inclusion and integration into the IDF.