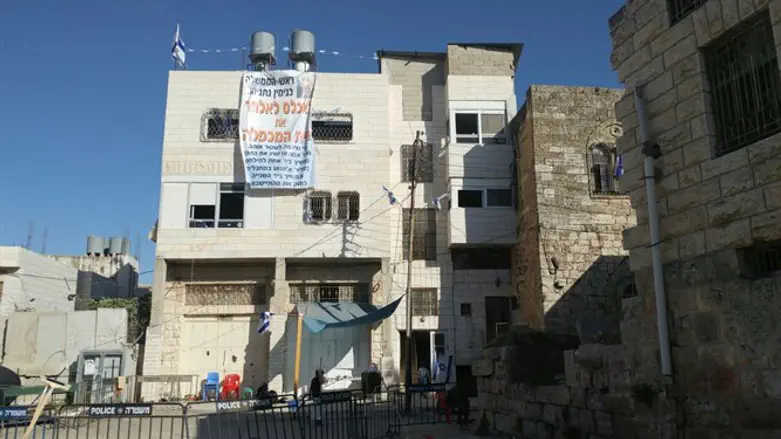 Machpela House
Eliran Aharon
Noam Arnon, the spokesman for the Jewish community of Hevron, on Wednesday blasted the judicial system, the army and the police following the ruling of the Supreme Court that the residents of the Machpela House in Hevron would be evicted.
Arnon told Arutz Sheva that he was not surprised by the ruling. "We saw the system's attitude to Jews who want to buy a house in Hevron. The entire system treats them unfairly, with hostility, and this is the result."
"The moment a Jew enters a home he bought and paid hundreds of thousands of dollars for, the Arab makes a false claim that he did not pay because he wants to save his life since the Palestinian Authority has the death penalty to those who sell property to Jews. The police always immediately believe the Arab. This is intolerable. The people who bought the house are neither thieves nor liars, they are honest people," he added.
15 Jewish families moved into the Machpela House last July after purchasing the building from a member of the Abu Rajab clan. However, other members of the Abu Rajab clan claimed that the residents had forged documents regarding the transaction, and that no sale had taken place.
In December, the families agreed to be evacuated on the condition that the State agree to demolish a nearby storehouse illegally set up by local Arabs. In its ruling, the Supreme Court rejected the residents' proposal.
The decision of the judges states that "there was no defect in the position of the State that occupancy by the Company [that purchased the house] or anyone acting on its behalf should not be permitted in the part of the structure that was vacated in 2012, this until there is a decision on the right of the Company to register ownership of the property or any other decision made by Land Registration Committee."
The residents have accused the Civil Administration of dragging its feet in making a final decision concerning ownership of the building since they were first evicted in 2012, leaving them without access to the property they legally purchased for nearly six years.