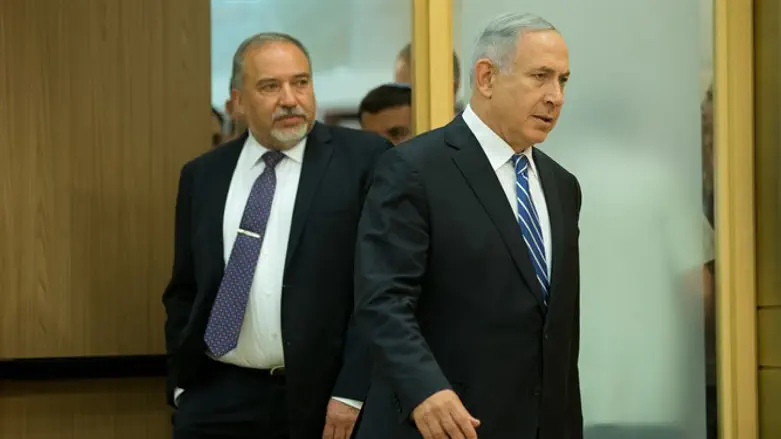 Netanyahu and Liberman
Flash90
Prime Minister Binyamin Netanyahu and Defense Minister Avigdor Liberman (Yisrael Beytenu) sat down for talks Tuesday to settle the ongoing coalition crisis and avert the collapse of the Likud-led government.
According to multiple sources cited by Israeli media outlets, Netanyahu appears prepared to back down from his previous threats to fire Yisrael Beytenu's Immigration Minister Sofa Landver if she votes against a haredi-backed draft law.
Senior sources claim the Prime Minister is now looking to avoid a government collapse and snap elections.
"We just took a major step back from [early] elections," a source close to Netanyahu told Israel's Army Radio. "We think it's possible to avoid snap elections."
The deal reportedly being drafted by the two leaders would include permission from Netanyahu to Yisrael Beytenu MKs to vote against the government – despite the draft bill in question receiving coalition backing at the Ministerial Committee for Legislation, which binds coalition allies to vote in favor of the bill.
Liberman earlier vowed that all five of his party's MKs would vote against the bill during its first reading in the Knesset Tuesday evening.
"Everyone in Yisrael Beytenu will vote unanimously against the bill," said Liberman.
The party had earlier threatened to bolt the coalition if the draft bill is passed in all three readings.
"If the law is passed in its current form – we're out," Yisrael Beytenu MK Oded Forer told Channel 10on Monday.
"We won't let our hands be tied when it comes to security matters. We'll leave the coalition if the bill is passed in the second and third readings."
An outline for a possible compromise agreement has reportedly been approved by fellow coalition members, including Finance Minister Moshe Kahlon (Kulanu), Education Minister Naftali Bennett (Jewish Home), and Interior Minister Aryeh Deri (Shas).
The deal will guarantee Yisrael Beytenu's support for the government as the Knesset votes on four motions to dissolve the Knesset brought by Opposition MKs.
Under the proposed agreement, Yisrael Beytenu will back a critical 2019 state budget bill, expected to be brought for a vote on Wednesday.
Without a new spending bill by March 31st, the Knesset will be forced to dissolve itself and hold new elections.
The current coalition crisis began last month, when haredi lawmakers levelled an ultimatum, threatening to block the 2019 budget bill unless the government passes legislation protecting draft deferments for full-time yeshiva students.
While yeshiva students have received open-ended draft deferments, renewable on an annual basis, since the late 1970s, the Supreme Court has repeatedly struck down legislation on the deferments, including a 2017 ruling against a 2015 draft law.
Following last year's ruling, haredi lawmakers have drafted new legislation which would circumvent the Supreme Court's ruling, and protect draft deferments by amending Israel's Basic Laws. The current bill up for consideration, drafted by Shas MK Yoav Ben Tzur, would enshrine Torah study as a national value, thus shielding deferments for yeshiva students from future Supreme Court rulings.
On Sunday, Netanyahu met with Deputy Health Minister Yaakov Litzman (United Torah Judaism), and ultimately succeeded in winning haredi backing for a compromise arrangement, under which the government would approve the draft bill in the Ministerial Committee for Legislation and bring the bill up in the Knesset plenum for the first of three readings. The bill would be brought up for its second and third readings during the Knesset's summer session.