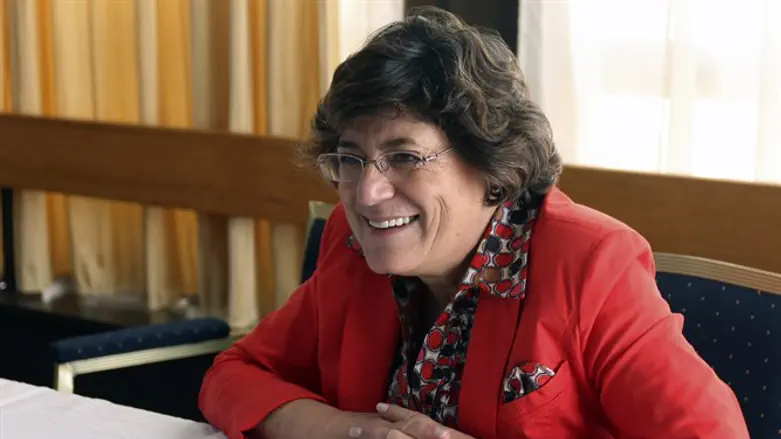 Ana Gomes
Reuters
The American Jewish Committee (AJC) Transatlantic Institute condemned Member of European Parliament Ana Gomes of the Socalist Group for demonizing Jewish civil society organizations, including AJC.
During her speech, Gomes condemned the organizations as a "very perverse lobby that tries to intimidate people."
In response, AJC called on Gomes' political group and President Antonio Tajani to take disciplinary action.
The incident occurred on 28 February in the European Parliament at a discussion Gomes hosted with Omar Barghouti, the founder of the "Boycott, Divest and Sanctions" (BDS) movement, which calls for a total economic, academic and cultural boycott of Israel. Gomes made her incendiary comments during her introductory statement, falsely accusing the Jewish organizations also of telling "a lot of lies." When Gomes was asked during the Q&A session if she had perhaps misspoken, she categorically refused to retract her offensive remarks.
Gomes' comments came after a number of Jewish organizations, including AJC and the Jewish community from her own home city, Lisbon, opposed her invitation to Barghouti.
"Who would have thought that 70 years after the Holocaust, a center-left lawmaker in the European Parliament would take a page straight out of 'The Protocols of the Elder of Zion,' spinning a tale of an allegedly sinister and 'perverse' Jewish lobby?" asked Daniel Schwammenthal, Director of the American Jewish Committee's (AJC) EU office, the AJC Transatlantic Institute.
"The IHRA (International Holocaust Remembrance Alliance) working definition of anti-Semitism, which the European Parliament itself adopted less than a year ago, considers as anti-Semitic 'making mendacious, dehumanizing, demonizing, or stereotypical allegations about Jews as such or the power of Jews as a collective.'
"Mrs. Gomes' statement is thus a textbook example of a classic anti-Semitic trope," Schwammenthal said.
"It is shocking enough that Mrs. Gomes would promote extremist groups like the BDS movement, which ultimately seek the end of Israel as a homeland for the Jewish people, and would even go as far as demonizing Jewish civil society organizations. But if Parliament remains silent in the face of her vitriolic attacks on European Jews, it risks damaging the reputation of the entire institution," he noted.
"We commend those Members of the European Parliament who protested against Mrs. Gomes' invitation to Barghouti in a letter co-initiated by MEP Heinz K. Becker, Chair of Parliament's Working Group on Combating anti-Semitism, and MEP Fulvio Martusciello, Chair of the Delegation for Relations with Israel.
"We also wish to recognize the Socialist group's leadership for distancing itself from Mrs. Gomes' BDS event and ordering its banner with the S&D (Socialist Group - ed.) logo be removed during the discussion. Katharina von Schnurbein, the EU's Coordinator on Combating anti-Semitism, deserves special credit for calling out Mrs. Gomes, stating that it was 'very worrying and depressing to see such vile anti-Semitic expressions.'
"Now, the European Parliament itself must act decisively against such anti-Semitic bigotry in its own house," Schwammenthal concluded.