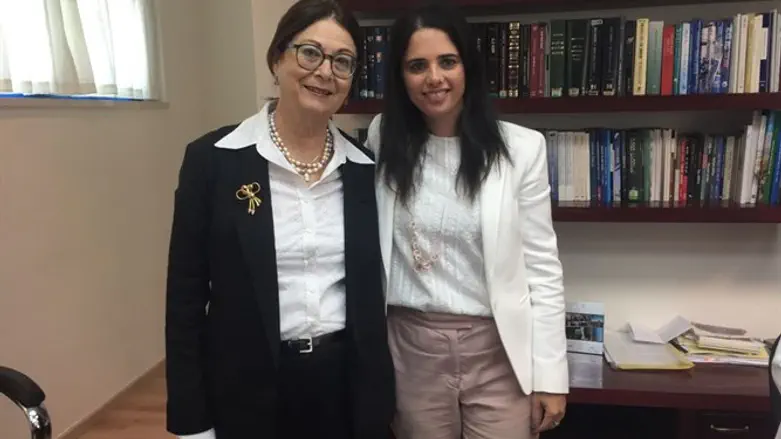 Shaked and Hayut
Justice Ministry spokesperson
Justice Minister Ayelet Shaked (Jewish Home) filed a complaint against the Israeli judge who coordinated her decision for an upcoming hearing with an investigator Tuesday.
Last week,Channel 10 revealed a series of instant messages on the WhatsApp chat program between Judge Ronit Poznansky-Katz, and Eran Shaham-Shavit, an investigator from the Israel Securities Authority.
The two discussed the upcoming hearing for suspects arrested as part of the "Case 4000"investigation, which centers on suspicions that a Netanyahu aide provided chief Bezeq shareholder Shaul Elovitch with regulatory benefits in exchange for sympathetic coverage to the prime minister and his wife on the Walla! news website, which is owned by Elovitch as well.
In the messages, the Israel Securities Authority official informed Poznansky-Katz of his agency's intention to request that several suspects' arrests be extended, telling the judge to "act surprised" when he makes the request in court.
"I'll practice looking surprised", replied Poznansky-Katz.
Minister Shaked and Supreme Court Chief Justice Ester Hayut issued a joint statement saying: "The Chief Justice and the Justice Minister have received this afternoon the decision of the Ombudsman for the Judiciary, Vice President Prof. Eliezer Rivlin, in his request for a clarification by the Chief Justice and the Minister on the matter of Judge Ronit Poznansky-Katz from the Tel Aviv-Yafo Magistrate's Court."
"The Chief Justice and the minister intend to study the Ombudsman's decision in order to make the appropriate decision, and the president and the minister thank the Ombudsman for handling the request for clarification without delay and for his thorough work," the statement said.
The Ombudsman previously announced that Poznansky-Katz would face disciplinary action for her behavior, but added that no criminal charges would be filed against her.