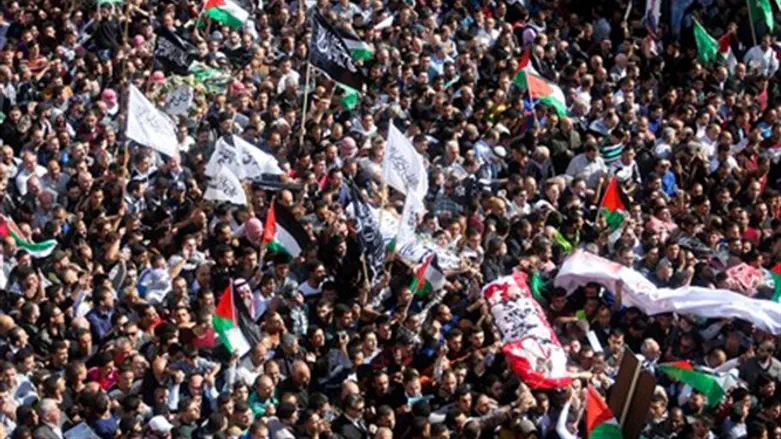 Hevron funeral after bodies of five terrorists returned
Flash 90
The Internal Affairs Committee on Monday approved for second and third readings the proposed amendment to the anti-terror law initiated by Public Security Minister Gilad Erdan, authorizing police to delay the transfer of the bodies of terrorists in order to prevent funerals from turning into demonstrations of incitement to terrorism.

The amendment is soon to be brought for the second and third readings in the Knesset, necessary for it to become law.

The proposal states that police may order a delay in the delivery of a terrorist's body until the fulfillment of conditions demanded by police from funeral organizers.
In addition, police will be able to exercise their authority if they fear that someone will be harmed, or that incitement to terrorism or expressions of identification with the terrorist or terrorist acts will be carried out, as a result of the funeral.

The list of conditions that police may set as conditions for holding the funeral include restricting the number of participants, the identity of the participants - including preventing the participation of a particular person insofar as he presents a danger to public safety or from his participation in the path of the funeral procession, the date and time of the funeral, items that may be carried during the funeral. In special cases, police may also determine the place of burial.
In addition, police may order a financial deposit to ensure that the conditions established for the funeral are met in one of two possible cases: the first, when there is concern that public peace and security may be harmed due to the funeral. Second, when there is concern of identification with the terrorist organization or incitement to terrorism.

Minister Gilad Erdan (Likud) said that "terrorist funerals are becoming manifestations of incitement and support for terror, which increase the chances of additional attacks. Therefore, I have waged a tough campaign against the holding of funerals that contain incitement so that the bestial terrorist will not be honored for his criminal act."
"Unfortunately, the Supreme Court ruled that the government does not have the authority to keep the body of the terrorist until its conditions are fulfilled - and we must do everything possible so that the law is approved quickly and the authority of the police to prevent incitement restored."

Chairman of the Internal Affairs Committee, MK Yoav Kish (Likud) said that "the funeral of a terrorist is an unbelievable display of incitement. It's not another incitement post on Facebook - it is a whole event of hatred and incitement that only generates more terror attacks and increases incitement."
"Preventing such incidents will be carried out by preventing the return of the body of the terrorist, and the police's ability to delay the delivery of the body will prevent these displays of incitement," Kish said.
ח"כ קיש: הלווית מחבל היא מופע הסתה בלתי מתקבל על הדעת