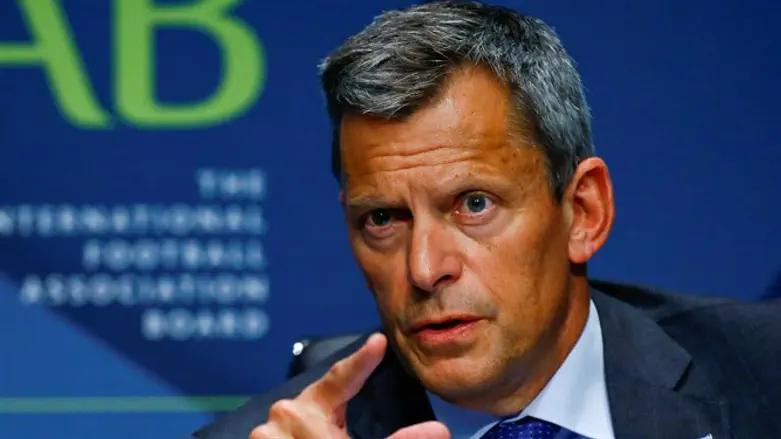 UK Football Association chief Martin Glenn
REUTERS
The head of England's soccer association came under fire Monday, after he drew a comparison between the Star of David and the Nazi swastika as he tried to justify a ban on symbols on players' jerseys.
Martin Glenn, the chief executive of England's Football Association, last year managed to convince the International Football Association Board to relax restrictions on political and religious symbols on jerseys, winning approval for use of the poppy symbol on English uniforms. The poppy is used as a symbol commemorating fallen British soldiers.
Recently, however, Glenn pushed back on suggestions that other symbols, including religious or national icons, be permitted, telling reporters that some symbols could divisive or insulting to some players and spectators.
During his defense of the ban, Glenn named the Nazi swastika, the Communist hammer and sickle, and pictures of former Zimbabwe president Robert Mugabe. But the FA chief also named the Star of David, a Jewish religious symbol featured on the Israeli flag, as an example of "divisive" symbols.
We have re-written Law 4 of the game so that things like a poppy are OK," Glenn said. "But things that are going to be highly divisive, and that could be strong religious symbols, it could be the Star of David, it could be the hammer and sickle, it could be a swastika, anything like Robert Mugabe on your shirt, these are the things we don't want."
In response to Glenn's comments, Britain's Jewish Leadership Council issued a statement condemning the comparison between the Jewish religious symbol and the Nazi swastika as "offensive and inappropriate".
"The FA's examples are ill judged an in poor taste," said JLC chief Simon Johnson.
"The Star of David is a Jewish religious symbol of immense importance to Jews worldwide. To put it in the same bracket as the swastika and Robert Mugabe is offensive and inappropriate."