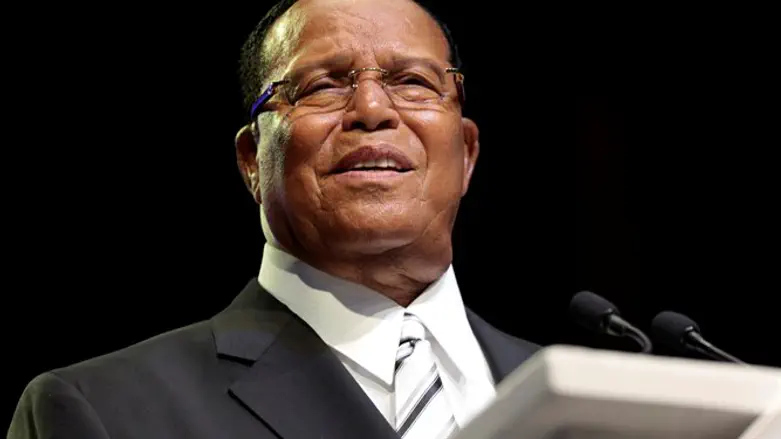 Nation of Islam leader Louis Farrakhan
REUTERS
A Democratic lawmaker who lauded Nation of Islam leader Louis Farrakhan last month has doubled-down on his praise of the controversial Chicago figure, despite Farrakhan's history of racist and anti-Semitic rhetoric.
Last month, Illinois Congressman Danny Davis, who has represented parts of Cook County in the US House of Representatives since 1997, defended former President Barack Obama, following the release of a photograph showing then-Senator Obama meeting with Farrakhan in Washington in 2005.
The bombshell revelation sparked criticism of the former president, including rare criticism by liberal supporters of Obama, including jurist Alan Dershowitz.
"Louis Farrakhan is a virulent anti-Semite," said Dershowitz. "He called Judaism a 'gutter religion.' He's anti-American."
"He is a horrible, horrible human being, and if I had known that the president had posed, smilingly, with him when [Obama] was a senator, I would not have campaigned for Barack Obama [in 2008]. It would have influenced my decision."
For decades, Farrakhan has been a controversial figure in the Black Muslim community in Chicago, due to his acerbic rhetoric on racial issues and open use of anti-Semitism in his sermons, leading an ADL spokesperson to decry Farrakhan as the most popular purveyor of hate in America.
In 1984, Farrakhan was recorded calling Judaism a "gutter religion", leading the US Senate to condemn him in a unanimous 95-0 vote.
Farrakhan also called the establishment of the State of Israel an "outlaw act", and accused the Jewish state of "thievery, lying, and deceit".
'Now that nation called Israel never has had any peace in 40 years and she will never have any peace because there can be no peace structured on injustice, thievery, lying and deceit and using the name of God to shield your gutter religion under His holy and righteous name," Farrakhan said in a June 1984 sermon.
In March of 1984, Farrakhan praised Nazi leader Adolf Hitler, calling him a "very great man".
In 1990, Farrakhan slammed American Jews, accusing them of controlling the US government.
"The Jews, a small handful, control the movement of this great nation, like a radar controls the movement of a great ship in the waters," said Farrakhan at that year's "Saviour's Day" conference in Chicago. "The Jews got a stranglehold on the Congress."
In 1996, Farrakhan called Jews "wicked deceivers of the American people" who "have sucked their blood".
Despite the litany of anti-Semitic and racist public statements made by Farrakhan over the past four decades, Congressman Davis hailed the Nation of Islam leader as an "outstanding human being" in February, telling The Daily Caller Farrakhan has played a "big role" in the lives of thousands of his followers.
"I personally know [Farrakhan], I've been to his home, done meetings, participated in events with him," Davis said.
"I don't regard Louis Farrakhan as an aberration or anything, I regard him as an outstanding human being who commands a following of individuals who are learned and articulate and he plays a big role in the lives of thousands and thousands and thousands and thousands of people."
On Sunday, Davis reiterated his support for Farrakhan, confirming to the Caller that he had a personal relationship with the controversial Chicago leader.
Davis brushed off accusations of anti-Semitism, suggesting the controversies surrounding Farrakhan were spawned by unfair criticism in the press.
"I'm a pretty global individual. So I know Farrakhan, I know the Middle East question, I know the Jews and Farrakhan — I know all that, but that's not what I spend all my time focused on," Davis laughed.
"I know Farrakhan, been knowing him for years and years and years and years and years, and every once in a while some writer or somebody will I guess try to think of something to say about Farrakhan, but nah, my world is so much bigger than any of that. I don't have time for that. I deal with it, you know, when it comes but nah, that's not a real part of my focus."
"That's just one segment of what goes on in our world. The world is so much bigger than Farrakhan and the Jewish question and his position on that and so forth. For those heavy into it, that's their thing, but it ain't my thing," Davis said.
The Anti-Defamation League slammed Davis for his defense of Farrakhan, telling the JTA Sunday that the congressman lacked "courage".
"It is unfortunate that the congressman apparently can't muster up the courage to denounce Farrakhan's blatant anti-Semitism and instead chose to praise him instead," a spokesperson told JTA.
Other Democratic lawmakers have been outed for their ties to Farrakhan in recent months.
In February, it was revealed that California Congresswoman Maxine Waters had attended and was mentioned by name at a Nation of Islam event in 2002 headlined by Farrakhan, during which he defended suicide bombers targeting Israelis.
Earlier that month, TheWall Street Journal revealed that Democratic National Committee Deputy Chairman Keith Ellison had taken part in a 2013 event along with Iranian President Hassan Rouhani and Farrakhan.