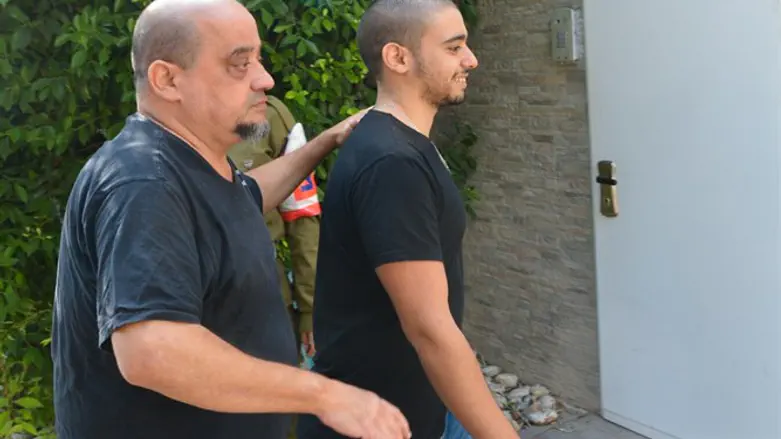 Elor Azariya and his father
Roy Alima/Flash90
Former IDF Sergeant Elor Azariya may be released from prison early, following a positive report about the ex-soldier's behavior behind bars during the first half of his 14-month term.
Azariya was convicted of manslaughter in January 2017 for the shooting death of a wounded Arab terrorist shortly after an attack in Hevron that left one soldier wounded during the Purim holiday in March, 2016.
In February 2017, an IDF court sentenced Azariya to 18 months in prison. That sentence was reduced, however, after Azariya's legal defense team appealed to IDF Chief of Staff Gadi Eizenkot, who slashed four months from the prison sentence.
Azariya began serving his sentence last August, and will have completed half of his 14-month prison sentence next week.
On Thursday, Channel 20 reported that officials from the IDF's Prison 4, where Azariya has been serving his sentence, recommended that the former soldier be paroled, noting that he had a spotless record during his seven months in prison.
Prison 4 officials added that Azariya complied with all the requirements for parole.
"Elor's behavior has been exemplary throughout his prison term, and thus was permitted to take vacation leaves [from prison] every 28 days," the report reads, "starting from his very first month."
The report has been forwarded to army prosecutors, who will respond to the recommendation prior to the army parole board meeting, scheduled for March 14th.
At the March 14th hearing, an army judge will rule on the parole request, which if granted, could lead to Azariya's immediate release from incarceration.