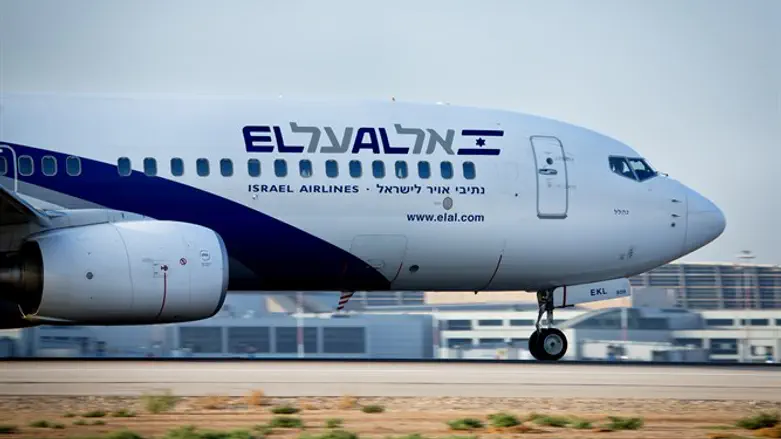 El Al airplane
Photo: Moshe Shai / Flash90
The Israeli airline El Al is looking to dramatically cut the flight time on one of its routes. In the process, it may also may make history.
Since the State of Israel's establishment in May 1948, the Islamic kingdom of Saudi Arabia has refused to recognize the Jewish state's existence.
Aside from a refusal to engage in direct talks with Israel, sign trade agreements, or open an embassy in Israel, the kingdom has also denied Israeli passenger planes permission to enter Saudi airspace.
Nor did Saudi Arabia even permit non-Israeli airliners from entering its airspace for flights to and from the Jewish state.
In January, however, it was reported that Air India had been granted permission to fly over the kingdom for a Tel Aviv-New Delhi route.
Despite subsequent denials by the Saudis that permission had been granted, Air India claims that it was waiting for the Indian aviation authority to finalize the proposed route.
Now, Israel's flag carrier airline, El Al, is looking to compete with the planned Air India line.
At present, El Al offers direct flights to India, but is forced to circumvent the Saudi peninsula, flying over the Red Sea and south towards Ethiopia, before turning east after clearing Saudi and Yemeni airspace.
The new route would cut the flight time between Israel and Indian travel centers like Mumbai and New Delhi by roughly 25%, trimming approximately two hours off the eight-hour trip. Such changes would not only make El Al flights more attractive to passengers due to the shorter flying time, it would also enable the airline to cut ticket prices.
In early February, El Al filed a request with Israel's aviation authority for the opening of the first route over Saudi airspace.
Now, El Al is pushing for the International Air Transport Association to aid its bid to secure Saudi support for the venture.
On Wednesday, El Al officials submitted their request to the IATA to intervene on the airline's behalf with the Saudi government.
"I am approaching you and kindly requesting IATA to intervene and to represent aviation industry's interest by advocating equal overfly rights for all carriers over the Kingdom of Saudi Arabia and opposing any form of discrimination," El Al chief executive Gonen Usishkin wrote IATA head Alexandre de Juniac.
While Saudi Arabia has rebuffed overtures in the past, and refused to recognize the Jewish state even following historic peace deals between Israel and Egypt and the Hashemite Kingdom of Jordan, Crown Prince Mohammad has initiated a series of reforms cracking down on support for terrorism within the royal family, ending the ban on female drivers, and informal cooperation with Israel against Iran. Some experts argue that the Saudi government may in fact be open to a reassessment of its relationship with the Jewish state.
While formal relations between the two are unlikely, the Saudis may accede to an IATA request on Israel's behalf as a form of de facto recognition.