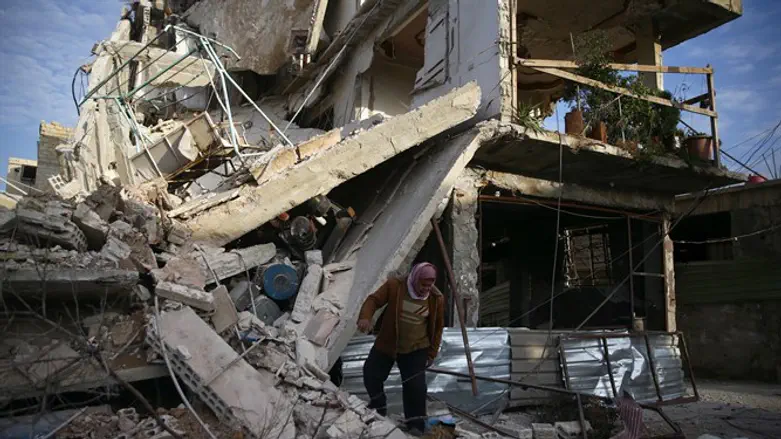 Damaged building in Eastern Ghouta
Reuters
Fresh bombardment on Eastern Ghouta in Syria killed dozens of people on Thursday, bringing the number of dead civilians in a five-day assault by the Syrian government to more than 400, AFP reported.
Mounting calls for a humanitarian truce in one of the bloodiest episodes of Syria's seven-year conflict went unheeded as 46 more people were killed by air strikes and rocket fire, according to the news agency.
Russia, one of the closest allies of the Syrian regime, said there was "no agreement" at the UN Security Council on a 30-day ceasefire for Syria and presented amendments to a draft resolution that would allow aid deliveries and the evacuation of civilians from besieged Eastern Ghouta.
Eastern Ghouta is meant to be one of the so-called "de-escalation zones" agreed to in a deal struck by Russia, Turkey and Iran last year. In theory, such zones are meant to be areas where civilians can live without being targeted by any party in Syria's war. The violence has raged in the Damascus suburb regardless.
Aid group Doctors Without Borders said 13 of the facilities it supports in Eastern Ghouta were damaged or destroyed in three days, leaving remaining staff with very little to save the hundreds of wounded brought to them every day.
"Five days of air strikes and intense artillery fire by the regime and its Russian ally have killed 403 civilians, including 95 children," said the Syrian Observatory for Human Rights, which is based in Britain and relies on a team of observers on the ground.
Regime and allied forces have been massing around the enclave, in which an estimated 400,000 people live, ahead of a likely ground offensive to flush out holdout Islamist and jihadist groups.
The indiscriminate bombardment and the strikes on medical facilities has sparked global outrage but few concrete have options emerged to stop the bloodletting, noted AFP.
At the UN, Russian ambassador Vassily Nebenzia said sponsors Sweden and Kuwait were requesting a vote on a ceasefire plan even though they are "fully aware there is no agreement on it".
The Security Council needs to reach a "feasible" agreement on a ceasefire and not take a decision that would be "populistic" and "severed from reality," he said.
U.S. Ambassador to the UN Nikki Haley on Wednesday called for "immediate action" to save the lives of those attacked by Syrian President Bashar Al-Assad's regime.
"It's time to take immediate action in the hopes of saving the lives of the men, women, and children who are under attack by the barbaric Assad regime," Haley said. "It is simply preposterous to claim that these attacks on civilians have anything to do with fighting terrorism."
Meanwhile, Russian Foreign Minister Sergei Lavrov said during a press conference in Belgrade that jihadist fighters in Ghouta had rejected an evacuation deal.
"A few days ago, our military in Syria suggested to the fighters that they withdraw peacefully from Eastern Ghouta, like the evacuation of fighters and their families that was organized in East Aleppo," he said, according to AFP.