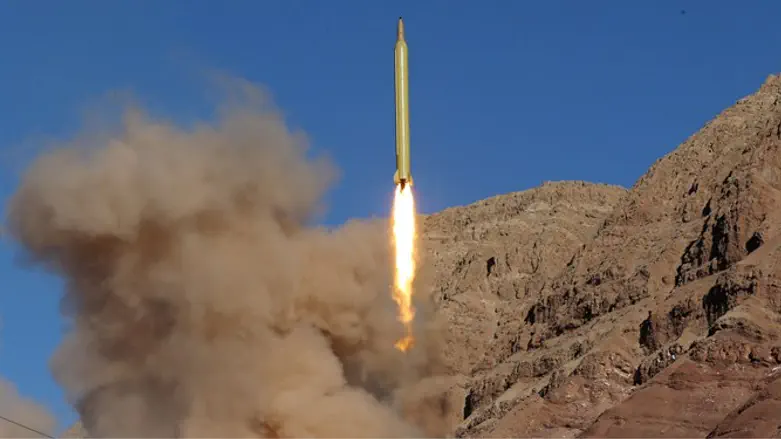 Ballistic missile launched and tested in undisclosed location, Iran, March 9, 2016
Reuters
According to Reuters, the United Nations International Atomic Energy Agency (IAEA) believes that Iran is keeping to the terms of the 2015 nuclear deal.
Reuters based its report on an IAEA document concluding that Iran is not currently enriching uranian to levels higher than allowed by the deal and has cut back on its production of heavy water, a key component in nuclear weapons.
Iran had signed the Joint Comprehensive Plan of Action (JCPOA) in 2015 and pledged to cease developing nuclear weapons for a ten year period. When it was signed, then-President Obama hailed the accords as a way to stop Iran from gaining access to nuclear weapons.
However, President Donald Trump has repeatedly spoken out against the agreement and has vowed to renegotiate it, calling it "the worst deal ever signed".
Trump recently told Israel Hayom that the deal was "catastrophic for Israel, in how it was done, how it was allowed to be done, how it was signed, how it was agreed to, it is rather incredible to me".
While the regime in Tehran has remained defiant and publicly rebuffed the Trump administration's demand for a renegotiated JCPOA, the president also claimed that Iran had already altered its behavior since his administration 'put them on notice'.
Trump recently decided to extend a waiver on nuclear sanctions that were imposed on Iran. However, he said it would be the last time he will do so and ordered European allies and Congress to work with him to fix "the disastrous flaws" in the 2015 deal or Washington would withdraw.
Britain, France and Germany are now working on a plan to satisfy Trump by addressing Iran's ballistic missile tests and its regional influence while preserving the 2015 accord.