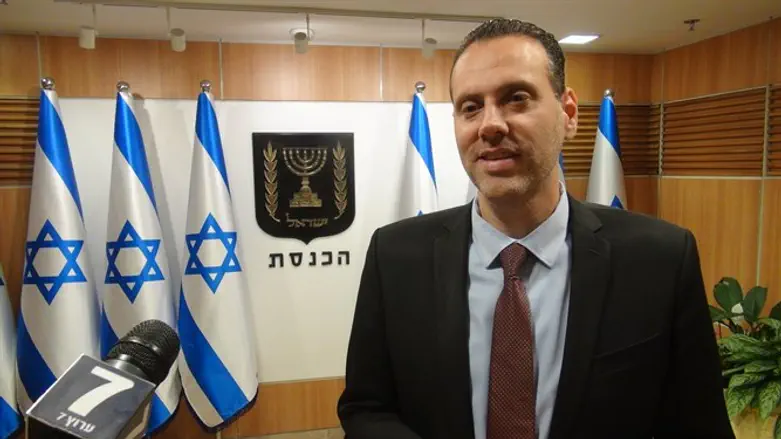 Zohar
Hezki Baruch
House Committee Chairman MK Miki Zohar (Likud) expressed support for Prime Minister Binyamin Netanyahu Tuesday - amid a series of police investigations targeting the premier and several former aides - while castigating left-wing journalists and the police, who he says are working to topple the Likud-led government.
In an interview with Arutz Sheva, Zohar said that he intends to file a police complaint over harassment Zohar says that he and his wife have been subjected to recently. "They're trying to intimidate me because of my statements - that I stand behind. Someone called my wife and introduced himself as a tax investigator and after a check I found out there was no such person.
"In a democratic country, Knesset members have the right to say what's in their hearts," Zohar stressed.
You said yesterday, "What they're doing Netanyahu is like Rabin's murder." Didn't you overdo it a bit?
"Just as Yigal Amir wanted to remove Yitzhak Rabin from his position through undemocratic means by murder, so too leftists and media people are trying to remove the Prime Minister from his post in an undemocratic way by slander and fabricating lies.
"Smarter people than me have said, 'Humiliating one's friend in public is tantamount to shedding blood.' This statement is also true about politicians and certainly regarding the Prime Minister against whom they who went too far, and also against his family. When all the issues about the Prime Minister are clarified and we'll see what's left of all this muddle, many people will have to apologize."
Every hour brings another investigation against the Prime Minister. Is it orchestrated?
"Rabin was murdered and his life was taken away. The Prime Minister is being murdered daily, hourly, in all the media and in every news broadcast. The public bloodshed that the Prime Minister is suffering has crossed all lines. Let the enforcement authorities do their work and let the court decide. Don't judge the Prime Minister, it's in the public's hands, and if it's a criminal matter, it's in the court's hands."
The Police Commissioner argued at the Interior Committee hearing that it was not the police leaking to the media. Do you believe him?
"Absolutely not. I think the Commissioner has toughened allegations against the Prime Minister, claiming that those under investigation are leaking information. Why would the Prime Minister leak the investigation if the leaks harm his reputation? Therefore I don't accept the commissioner's claims.
"I personally believe that the Israel Police in its investigations of celebrities and public figures doesn't do professional work, and this worries not only me but the entire public."
Are you afraid the police will take you on as well?
"I'm not afraid. I always kept the law. Let them try to falsify claims against me - if they succeed, I'll applaud them. I'm not bothered, and if the police fail - I say it. I fear only the Blessed Holy One, and a little bit my wife."
ח"כ מיקי זוהר: ''התקשורת רוצחת את ראש הממשלה''