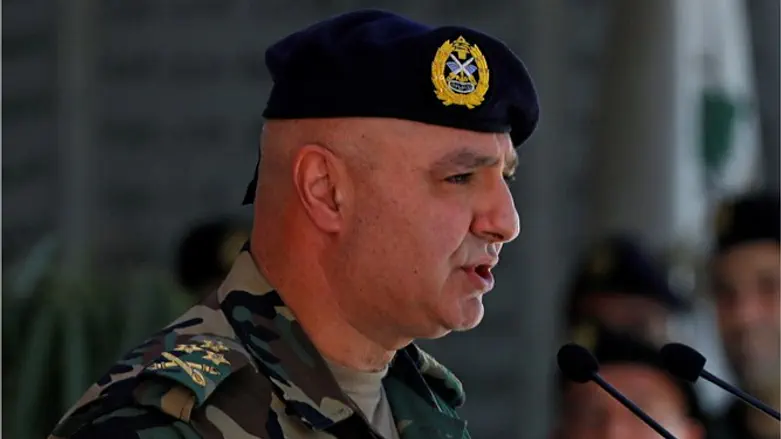 Joseph Aoun
Reuters
Lebanon's army will use every available means to confront any potential "Israeli aggression" no matter the cost, its commander said on Monday, according to Reuters.
"I affirm again our categorical rejection of the Israeli enemy infringing on Lebanon's sovereignty and its sacred right to exploit all its economic resources," the Lebanese army quoted General Joseph Aoun as saying.
"The army will not spare any method available to confront any Israeli aggression, whatever that costs," stressed Aoun.
His comments come amid a dispute between Israel and Lebanon over offshore gas drilling.
Nearly two weeks ago, Lebanon signed its first contract to drill for oil and gas off its coast with a consortium comprising energy giants Total, ENI and Novatek, including in a block disputed by Israel.
Israel says one of two blocks in the eastern Mediterranean where Lebanon wants to drill for oil belongs to it, and had denounced any exploration by Beirut as "provocative".
On Friday, Hezbollah leader Hassan Nasrallah declared that Lebanon was strong enough to withstand U.S. and Israeli pressure and to put Israeli gas rigs out of action.
Tensions have also mounted as Israel pursues the construction of a wall along the border.
Lebanon says part of the wall follows the UN-demarcated "Blue Line" drawn up after Israel's withdrawal from southern Lebanon in 2000, and insists some sections will cut into its territory.
Israel dismisses the claim and says the work is being carried out on Israeli territory.
U.S. diplomats have been trying to mediate between the two countries in recent days.
Lebanese officials, most notably its president Michel Aoun, have threatened Israel repeatedly. Aoun in November accused Israel of "squatting in the southern borders" and of "violating Lebanon's sovereignty".
Earlier that month, he warned that if a war with Israel were to occur, all the citizens of his country are willing to battle Israel.