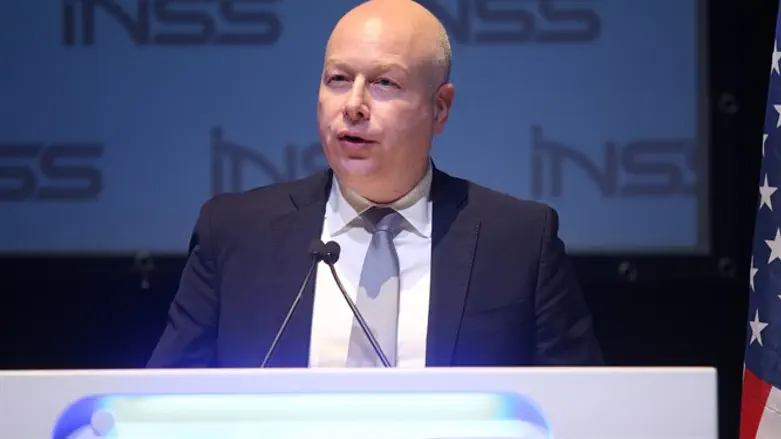 Jason Greenblatt
Chen Galili, Institute for National Security Studies
Jason Greenblatt, President Donald Trump's Special Representative for International Negotiations, on Sunday evening condemned Gaza's Hamas leaders in the wake of the recent attacks on Israel.
"HAMAS hides improvised explosive device to attack Israeli soldiers & is shooting rockets at Israel again! Such cowardly acts will only escalate violence, not build the prosperous society the people of Gaza deserve!" he tweeted.
His comments follow Saturday's incident in which four IDF soldiers were injured when an explosive detonated as they patrolled near the Gaza border fence.
On Saturday evening, a rocket was fired from Gaza and hit a home in one of the communities in the Shaar Hanegev area. There were no injuries but the house was damaged.
Greenblatt's tweet also came several hours after a rocket fired from Gaza exploded in an open area in the Shaar Hanegev Regional Council in southern Israel.
There were no physical injuries or damages.
Greenblatt has criticized Hamas several times in recent weeks. Two weeks ago, he tweeted, "Hamas should be improving the lives of those it purports to govern, but instead chooses to increase violence and cause misery for the people of Gaza. Imagine what the people of Gaza could do with the $100 million Iran gives Hamas annually that Hamas uses for weapons and tunnels to attack Israel!"
In a previous series of tweets, he wrote, "Hamas literally undermines Gaza's chance for success— now building a terror tunnel under a crossing to Israel that should be a conduit toward a better economy."
"A terror tunnel costs roughly $5.9 million to build ($ that belongs to the people of Gaza) plus roughly $30,000 a day in lost revenue when the crossing is closed as a result. Gaza needs options besides Hamas and its enablers. Time to stop pouring money into violence and hatred, and to start investing in a real future for Palestinians in Gaza," added Greenblatt.
Several weeks ago, after touring the Israel-Gaza border area, Greenblatt tweeted his condemnation of Hamas, saying the terror group "wastes resources" on terror rather than investing in the Gaza Strip's civilian needs.
"Hamas wastes resources on tunnels & rockets to attack Israel, instead of helping the people of Gaza by getting the lights on, the water flowing & the economy growing. Hamas spews hateful rhetoric & foments a vicious cycle of violence. Gaza deserves better!"