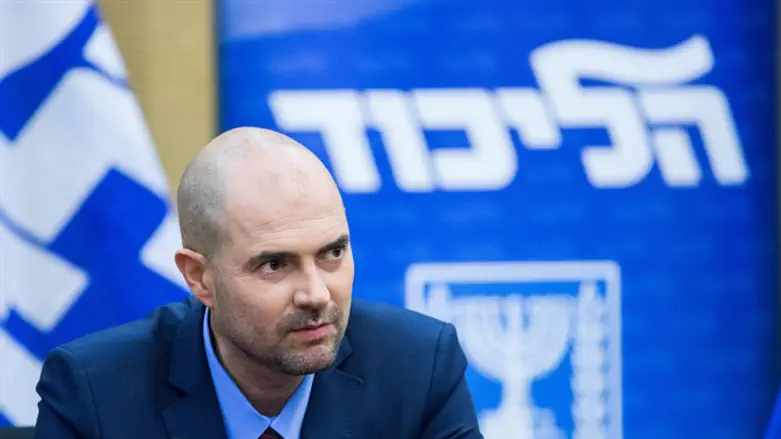 MK Amir Ohana
Yonatan Sindel/Flash 90
A new bill calls to establish a national day of recognition for the Jewish underground organizations that operated in Israel prior to the establishment of the state.
The legislation, submitted by MK Amir Ohana (Likud), aims to recognize the contribution of the pre-state underground organizations to the establishment of the state and the IDF.
The day would include a special discussion in the Knesset plenum, a national memorial ceremony, and programs in the education system focusing on the Palmach, Irgun, Lehi, NILI, Hashomer, Bar Giora and Jewish Resistance Movement.
According to the proposed legislation, the day will be marked on the 25th of the Hebrew month of Shvat, the day on which Avraham (Yair) Stern, founder of the Lehi, was murdered by the British Mandatory police.
"The story of the Jewish underground is taught far too little in our educational institutions," said MK Ohana, "and as a result their tremendous contributions to the state have been mitigated."
"These are the founding fathers of us all, those who not only dreamed but who acted: they built settlements, smuggled Jewish immigrants, fought battles, defended the Jewish community and gave their lives for the country. This law will preserve their heritage and will thank them on behalf of all the citizens of Israel."
Matan Peleg, Chairman of the Zionist organization Im Tirtzu that has been advocating for this national day of recognition, said that showing appreciation to those who fought in the Jewish underground is a historic and moral duty.
"The underground organizations were the shield of the Yishuv, and were crucial in bringing about the establishment of the state after 2,000 years of exile," said Peleg.
"These people were visionaries without whom we would not be here," continued Peleg. "It is our historic and moral obligation to show them thanks and appreciation, and it is astounding that such a day has yet to be established."