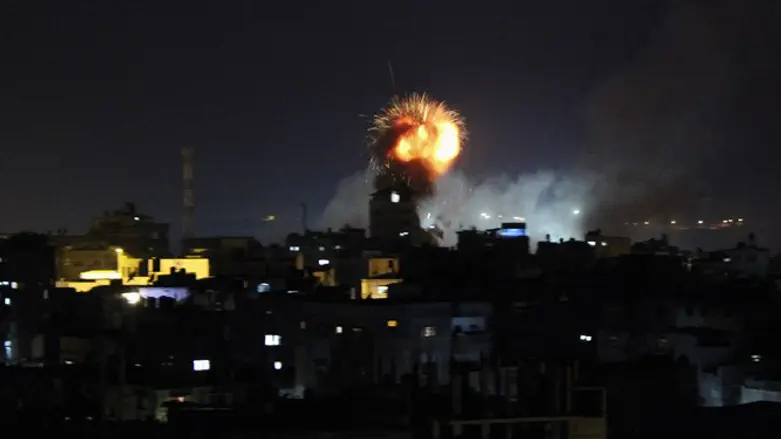 Airstrike in Gaza (archive)
Reuters
Israeli fighter jets attacked terrorist targets in Gaza overnight Saturday, in response to recent terrorist attacks, the IDF Spokesperson's Unit said in a statement.
The statement also said that during the air strikes, incoming rocket sirens were heard in southern Israel. These sirens were false alarms and no rockets had been fired toward Israeli territory, it stressed.
According to the statement, eight additional targets were attacked in a military compound in the Netzarim area belonging to the Hamas terrorist organization, including the infrastructure for the manufacture of weapons and training.
In total, 18 terrorist targets belonging to Hamas have been attacked by Israel since Saturday evening.
"The IDF views with great severity the attempt of the Hamas terrorist organization to carry out seemingly spontaneous demonstrations intended to turn the border fence area into a confrontation zone and carry out acts of terror that will destabilize Gaza," the IDF said.
"Hamas is responsible for the event and its ramifications, as well as for everything that occurs inside and outside Gaza, above and below the ground," the statement said.
The "Color Red" incoming rocket siren was heard at about 3:00 a.m. in many localities in southern Israel, including Ashkelon, Sderot, the Eshkol Regional Council, the Shaar Hanegev Regional Council and the Sdot Negev Regional Council.
Earlier on Saturday night, a rocket was fired from Gaza and hit a home in one of the communities in the Shaar Hanegev area. There were no injuries but the house was damaged.
The rocket hit the roof of the home while the family was inside, but miraculously it did not explode.
Also on Saturday night, IDF fighter jets attacked Hamas terror targets in Gaza, in retaliation for an incident earlier in the day in which four IDF soldiers were injured when an explosive detonated as they patrolled near the Gaza border.
The soldiers were taken to the Soroka Hospital in Be'er Sheva, and their families were notified.