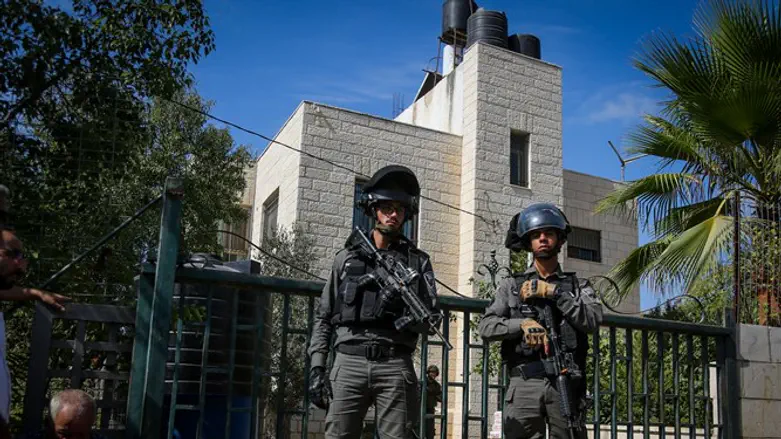 Israeli forces outside Har Adar murderer's house
Flash 90
Israel returned the bodies of two terrorists to the Palestinian Authority (PA) for burial, sources in the PA said on Friday, according to Israeli public broadcaster Kan News.
One of the bodies is that of Nimer Al-Jamal, who murdered three Israelis in Har Adar in September.
The second body is that of Hamzeh Zamaareh, who stabbed a security guard in the Gush Etzion community of Karmei Tzur last week, lightly wounding him.
Last month, the Knesset gave preliminary approval to a bill which would allow the IDF and Israel Police to hold the remains of Arab terrorists indefinitely, circumventing a Supreme Court ruling.
The Supreme Court had ruled that Israel must return the bodies of five Arab terrorists recovered from a terror tunnel built from the Gaza Strip into Israel and demolished by the IDF in October.
The proposal states that a district police commander will be given the authority to condition the release of a terrorist's body burial on security considerations, whether someone's mental well-being will be threatened, or if statements supporting terrorism will be published in connection with the funeral or burial of the assailant.
The Israeli government had at one point promised to stop the transfer of terrorists' bodies to the PA, but Friday's body return would not be the first time that Israel has done so after promising to cease the practice.
(Arutz Sheva's North American desk is keeping you updated until the start of Shabbat in New York. The time posted automatically on all Arutz Sheva articles, however, is Israeli time.)