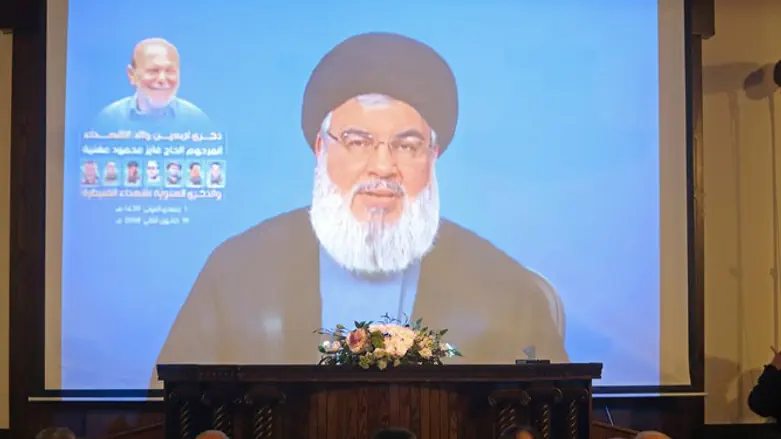 Hassan Nasrallah
Reuters
Hezbollah leader Hassan Nasrallah on Friday boasted that Syria's downing of an Israeli F-16 fighter jet last weekend was a "very big achievement."
In a televised speech, Nasrallah also threatened Israel's offshore energy projects and insisted his movement is Lebanon's "only" source of leverage in an escalating oil and gas dispute.
Last Saturday, a squadron of Israeli F-16I fighters struck a dozen Syrian and Iranian military targets around Damascus, in retaliation for the violation of Israeli airspace by an Iranian "Simorgh"-type unmanned aircraft earlier that day.
During the operation, Syria's air defense network fired dozens of missiles at the Israeli aircraft. Most of the missiles fired were older, Soviet-built S-200 "Dubna" missiles (designated as the SA-5 Gammon by NATO).
One of the S-200 missiles exploded in close proximity to one of the F-16Is, damaging the plane and forcing the pilot and navigator to bail out after they returned to Israeli airspace. Both crew members were injured during the ejection sequence.
"The decision to shoot down the plane was taken by the Syrian leadership and President Bashar Al-Assad. Those who executed the order were the officers and soldiers from the Syrian Arab Army," Nasrallah said Friday, according to Iran's PressTV.
In his remarks, the terrorist leader also discussed the tensions between Israel and Lebanon over offshore drilling for gas.
Last week Lebanon signed its first contract to drill for oil and gas off its coast with a consortium comprising energy giants Total, ENI and Novatek, including in a block disputed by Israel.
Israel says one of two blocks in the eastern Mediterranean where Lebanon wants to drill for oil belongs to it, and had denounced any exploration by Beirut as "provocative".
"The only force you have, oh Lebanese, is the resistance," Nasrallah said, referring to Hezbollah.
"If Israel threatens you, you can threaten it. If the Americans come tell you that you have to deal with them to hold Israel back, then tell the Americans: respond to our demands so we hold Hezbollah back from Israel," he added, according to AFP.
While the United States has sought to mediate the disagreement, Nasrallah insisted the U.S. was not an "honest mediator."
"They came to inform, dictate, and threaten," he said.
Nasrallah's comments come a day after Secretary of State Rex Tillerson visited Beirut and blasted Hezbollah's "destabilizing" role in the region.
Tillerson said the U.S. was "committed to helping Lebanon and the Lebanese people prosper through the development of their natural resources in agreement with all of their neighbors."
"The whole region has now openly entered into an oil and gas war, and our issue is not separate," Nasrallah said on Friday, according to AFP.
"This is Lebanon's wealth and hope... We are strong, and we must negotiate as such," he added.
"If Lebanon's Council of Defense takes a decision that oil platforms in Palestine should stop working, then in just a few hours, I promise you, they will stop working," threatened Nasrallah.
(Arutz Sheva's North American desk is keeping you updated until the start of Shabbat in New York. The time posted automatically on all Arutz Sheva articles, however, is Israeli time.)