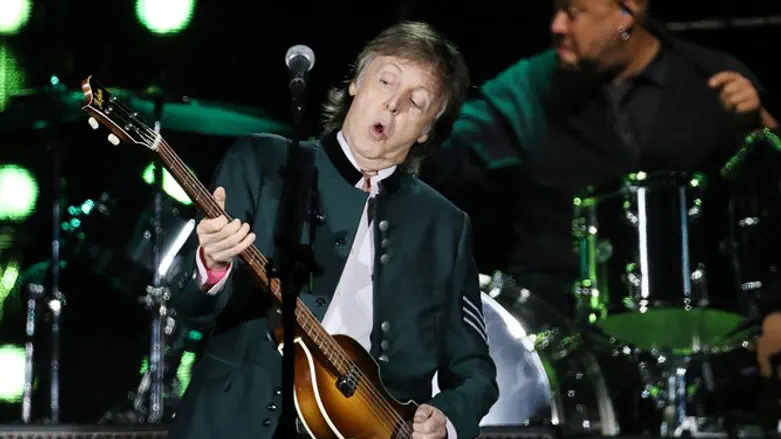 Paul McCartney
Reuters
Paul McCartney was announced on Monday as one of nine laureates for Israel's prestigious Wolf Prize.
McCartney is one of two recipients of the 2018 Wolf Prize in Music, President Reuven Rivlin announced.
McCartney was described as "one of the greatest songwriters of all time. His versatility underlies an extraordinary wingspan, from the most physical rock to melodies of haunting and heartbreaking intimacy. His lyrics have an equally broad range, from the naive and the charming to the poignant and even desperate. He has touched the hearts of the entire world, both as a Beatle and in his subsequent bands, including Wings.
The Wolf Foundation awards $100,000 prizes in five fields each year. More than 30 winners have gone on to receive the Nobel Prize.
McCartney will share the music prize with conductor Adam Fischer, who the prize committee called an "eloquent defender of human rights," particularly "his protest against the political developments in his native Hungary."
Seven other winners also were announced in the fields of mathematics, chemistry, physics and agriculture.
The prizes will be presented to the winners by Rivlin at a special ceremony to be held at the Knesset in Jerusalem, at the end of May.
McCartney has played once in Israel, performing a concert for over 50,000 fans in the Yarkon Park in Tel Aviv in 2008.
He later revealed that before the concert, he was actually threatened with his life by anti-Israel groups.
"I got death threats, but I'm coming anyway. I got explicit death threats, but I have no intention of surrendering. I refuse to cancel my performances in Israel," he said at the time.
Just last month it was announced that McCartney's former Beatles bandmate, Ringo Starr, will perform in Israel this June as part of his European "Give More Love" tour.
As for McCartney, The Associated Press reported on Monday that the Wolf Prize foundation had notified McCartney representatives of the prize, but that it was not immediately known if he would attend the ceremony.