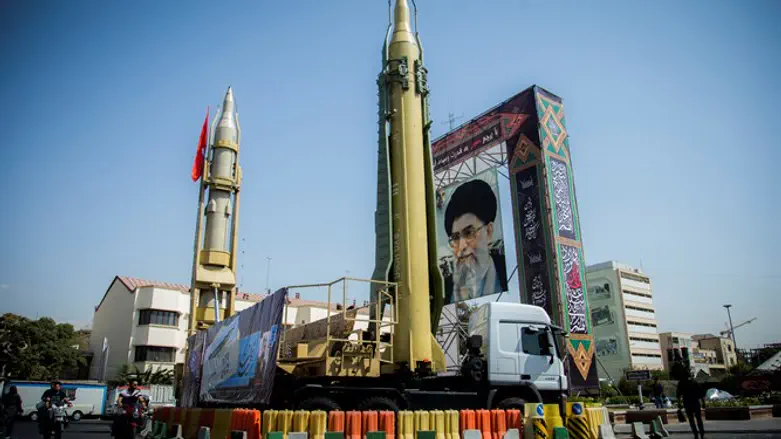 Display featuring missiles and portrait of Iran's Supreme Leader Ayatollah Ali Khamenei
Reuters
Institute for National Security Studies head Maj. Gen. (res.) Amos Yadlin today reacted Sunday on 103FM to the escalation this weekend between Israel and Iranian forces stationed in Syria, which he argued constituted a major change the change in the Islamic republic's behavior toward Israel.
"Iran has acted in the past through proxies like Hezbollah, but has never fired directly into Israeli territory. Israel now responded by attacking Iranian targets directly, while it has so far attacked only arms shipments. This is a major escalation, and a great strategic clash is on the horizon."
When asked why Iran chose to act now, Yadlin replied: "The Iranians are displeased with the freedom of action Israel has on Syrian soil, and therefore wanted to show Israel that it's capable of hitting Israeli territory. This was an operational trial launching of anti-aircraft missiles and they may have hoped Israel wouldn't notice it."
"An Iranian drone was inserted into Israeli territory and shot down. Israel chose to attack the center that operated the drone, and as a result an Israeli F-16 was hit. After the plane was downed, Israel decided to respond extensively, attack Syrian targets, and leave Damascus' air defense exposed along with about five Iranian targets."
"This is the first time Israel has attacked Iranian targets on Syrian soil after an Iranian drone entered Israeli territory. There is no air force in the world capable of reaching such an achievement within two hours."
"Russia and Iran are trying to save Assad's regime," Yadlin said, "they understand today that the only one that can undermine Assad's regime is Israel, which is capable of damaging all his elements of power. This regime has killed half-a-million people, expelled 10 million people from their homes, and therefore I predicted that if Assad wins, he'll bring us Iran and Russia into Syria. Unfortunately, that's exactly what happened. I won't shed a tear if Assad's regime expires."
The radio interviewer, Ayala Hasson, commented: "I'm shocked by what Assad is doing in his country, and I expected the world to get up and do something about it."
Yadlin responded say, "Indeed, the use of chlorine and chemical weapons against civilians is very cruel, but the rocket and missile attacks in his country killed far more; the Syrians fire them at markets, schools, and hospitals indiscriminately."
On the Russian's position after Israel's action, he said: "We have not harmed Russian targets and we will be very careful not to harm them in the future. On the other hand, we can't allow the Russian presence to give immunity to the Iranians on the ground. The Russians are not our enemies, but their interests are not necessarily in consonance with ours. The Russians are trying to stabilize Syria, and any military action, like the one that took place at the week's end, is contrary to their interests. The Russians have an impressive ability to maintain good relations with all sides, they play a very smart game diplomatically and try to promote their interests. We must make sure not to clash with those interests, and on the other hand the Russians must not be allowed to limit our activity against our enemies."
On American support for the Israeli attack, he said: "The Americans have no interest in getting involved in Syria. They came there just to eliminate ISIS. The only reason they remain in the country is to protect their allies who helped them locate the ISIS people in the field from the Shiite militias. The support of the United States is important to us, but we can't expect anyone else to do the work for us."
On Israeli policy in Syria he stressed: "Israel faces a difficult dilemma, whether to act preventively or to wait for war. The Israeli cabinet needs to sit down and examine whether the precision missiles in Syria justify preventive actions that could drag us into war. According to statements made by the Prime Minister and the Defense Minister, I understand that this is indeed the cabinet's policy, and that each case has its own merits."
In conclusion, the reservist general related to rumors that he intends to enter politics: "I served the State of Israel for 40 years in the IDF. In 2015, I agreed to serve as a professional candidate in order to strengthen Herzog and Livni's Zionist Union party. I didn't want to go to the Knesset because I thought my ability to influence as head of the Institute for National Security Studies was greater than being a Knesset Member. Politics is not an obsession for me and I'm not connected to any party, and so far we don't know when the next elections will be."