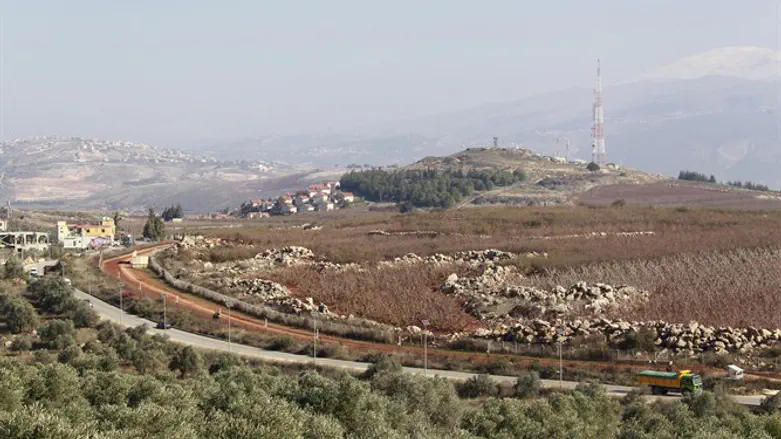 Lebanese-Israeli border from Kfar Kila, southern Lebanon
Reuters
Lebanon on Friday signed its first contract to drill for oil and gas off its coast with a consortium comprising energy giants Total, ENI and Novatek, including in a block disputed by Israel, AFP reported.
Israel says one of two blocks in the eastern Mediterranean where Lebanon wants to drill for oil belongs to it, and last week denounced any exploration by Beirut as "provocative".
President Michel Aoun said at a signing ceremony that Lebanon has "entered a new chapter in its history and is now a member of energy-producing countries".
Looking to tap potential oil and gas reserves after major offshore discoveries by neighboring Israel and Cyprus, the Mediterranean country in December approved a bid on blocks four and nine.
Block nine is the disputed block with Israel.
Exploration is set to begin in 2019, reported AFP.
French energy giant Total and Italy's Eni each hold a 40 percent stake in the consortium, and Russia's Novatek has a 20 percent stake.
Total welcomed the deal, saying it stipulates that drilling will take place in "at least one well per block in the first three years" and that the "consortium's priority will be to drill a first exploration well on Block 4 in 2019".
"As for Block 9, Total and its partners are fully aware of the Israeli-Lebanese border dispute in the southern part of the block that covers only very limited area (less than 8 percent of the block's surface)," it added.
"Given that, the main prospects are located more than 25 km (15.5 miles) from the disputed area, the consortium confirms that the exploration well on Block 9 will have no interference at all with any fields or prospects located south of the border area," it added in a statement issued in English.
Last week, Defense Minister Avigdor Liberman accused Lebanon of "provocative behavior".
"They issue a tender on a gas field -- including a bloc which by all accounts is ours -- to international groups that are respectable companies, which to my mind are making a serious mistake since it's against all rules and protocol in cases like this," he said.
Lebanese Energy Minister Cesar Abi Khalil responded by saying Lebanon would defend its right to drill there.
"Israel will do what it can to block us from taking advantage of our oil wealth, and we will do everything in our power to defend it," he said.
Already in 2013 it was reported that Lebanon was homing in on Israel's territorial waters by awarding offshore exploration licenses in Block 9.
Tensions between the two neighbors have also mounted as Israel pursues the construction of a wall along the border.
Lebanon says part of the wall follows the UN-demarcated "Blue Line" drawn up after Israel's withdrawal from southern Lebanon in 2000, and insists some sections will cut into its territory.
Israel dismissed the claim and said on Tuesday the work is being carried out on Israeli territory.
Aoun in November accused Israel of "squatting in the southern borders" and of "violating Lebanon's sovereignty".
Earlier that month, he warned that if a war with Israel were to occur, all the citizens of his country are willing to battle Israel.
"All Lebanese are ready to resist. All the Lebanese are prepared to fight against Israel. Yes, we are a small country, but we have reestablished our national unity, and part of that is a united opposition to anyone who attacks our country," said Aoun at the time.
Last year, he warned that any Israeli attempt to violate Lebanon's sovereignty would be met with the "appropriate response".
(Arutz Sheva's North American desk is keeping you updated until the start of Shabbat in New York. The time posted automatically on all Arutz Sheva articles, however, is Israeli time.)