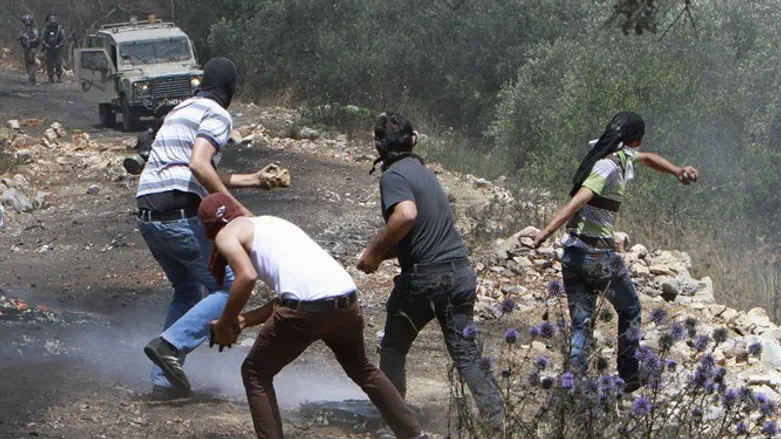 Rock attack (archive)
Reuters
An IDF soldier was lightly injured on Sunday evening when rocks were thrown at a bus that was traveling from Meitar to Be'er Sheva in southern Israel, Hadashot (formerly Channel 2 News) reported.
Arabs attacked a bus belonging to the Dan company as it travelled on Highway 60, near Abu Kaf. According to the report, shattered glass filled the bus as a result of the rock throwing. The driver continued driving and stopped a few minutes later.
The bus driver told the passengers that "it has become routine on the roads here in the Negev, it's just scary - the roads are dark and sometimes you feel really helpless."
Another passenger on the bus told Hadashot, "We were on our way home and suddenly there was a loud noise and shattered glass and rocks in the bus, it was really scary, like a terror attack. Luckily, it ended with only one person lightly injured but it could easily have ended in disaster."
Said Pini Badash, head of the Omer Local Council: "It's time for the police to wake up! Buses are attacked with rocks and nobody cares until someone is injured. We demand police presence on the roads and severe punishment by the courts, so that deterrence is created. A rock is like a bullet. A rock kills."
Arutz Sheva has frequently reported about rock attacks, which have become frequent occurrences in recent years mainly in eastern Jerusalem, Judea and Samaria but are ignored by most mainstream news outlets.
Such rock attacks can be lethal and are often carried out by terrorists with that intention.