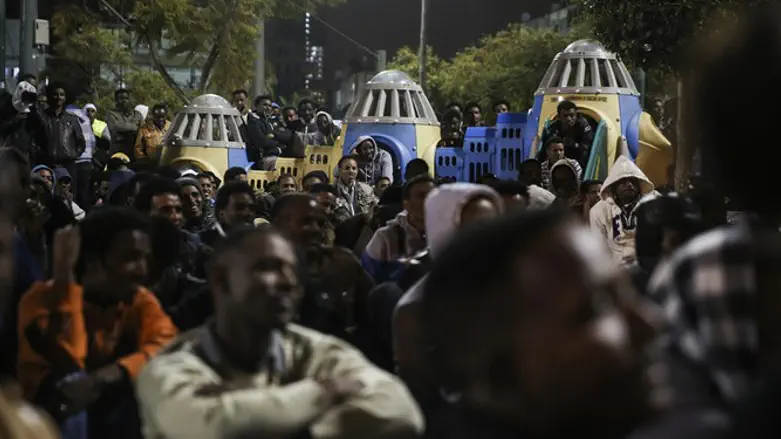 Illegal African immigrants in Tel Aviv
Flash 90
Thousands of illegal immigrants in Israel were notified Sunday of their impending deportation, should they not avail themselves of a voluntary resettlement program offered by the Netanyahu government.
Israel is set to deport between 15,000 to 20,000 illegal immigrants, often referred to as "infiltrators", beginning in April.
Over the past decade, nearly 60,000 illegal immigrants crossed over Israel's southern border with Egypt. Of those 60,000, the overwhelming majority came from Somalia, Eritrea, and Sudan. Upon their arrival in Israel, some requested asylum, citing their home countries' mandatory military service.
While the Netanyahu government built a border fence spanning the entire Egypt-Israel border, cutting the number of illegal crossings by more than 99% following the fence's completion in late 2013, voluntary self-deportation programs launched in 2014 managed to reduce the illegal immigrant population by just 15,000 – to slightly over 40,000.
A subsequent program which included force deportation for those who refused to leave the country voluntarily in exchange for a cash payment was blocked by the Supreme Court in August 2017. The court cited Israel's agreements with African countries which had agreed to accept self-deportees, noting that the deals were limited to those who were voluntarily leaving the country.
In December, however, the Knesset approved a new program, backed by the Netanyahu government, which would pave the way for forced deportations beginning in April 2018.
Relying on a new set of agreements signed between Israel and African countries which will receive deported infiltrators in exchange for compensation from Israel, the program aims to remove the remaining approximately 40,000 illegal immigrants still in Israel.
Some 38,000 infiltrators are currently listed in Israel, along with thousands of children born after their parents' arrival.
A spokeswoman from Israel's immigration authority told AFP that illegal immigrants had been notified by letter Sunday of their impending deportation, informing them that they have 60 days to avail themselves of the voluntarily resettlement program with compensation before they would face expulsion.
In the first round of deportations, slated to begin in early April, Israel has vowed to refrain from expelling women and children, as well as migrants who have applied for asylum and have yet to receive an official response.