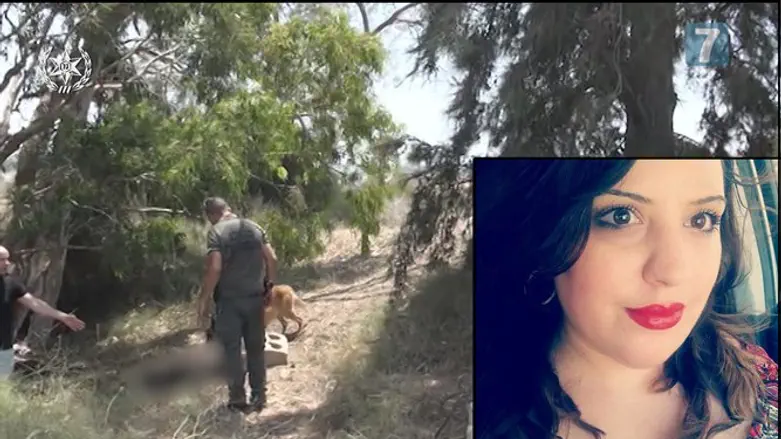 Michal Halimi and the scene of her murder
Police spokesperson
A Palestinian Authority resident charged with the murder of a 29-year-old Israeli woman in 2017 has confessed as part of a plea bargain agreement, admitting that he killed his married Jewish lover as an act of terrorism.
The murderer, a resident of the PA-controlled town of Shechem, was convicted Sunday after he agreed to a plea bargain agreement, admitting that he murdered the woman as an act of terror.
Last July, 29-year-old Michal Halimi, a resident of the Samaria town of Adam just outside of Jerusalem, was found dead in the central Israeli city of Holon.
Police said at the time that signs of violence were found on Halimi's body, suggesting that she had been strangled and then beaten to death with a blunt object. Her remains had then been partially buried in a sand dune.
Halimi, married to Aharon Halimi, was eight months pregnant at the time of her murder. Relatives reported that Halimi had gone missing in late May 2017 – two months prior to the discovery of her body – and suggested that she had been abducted.
During their investigation, however, police determined that Halimi had been having an extramarital affair with Muhammad Kharoff, a resident of the PA-controlled city of Shechem.
According to investigators, Halimi had visited Kharoff's residence in Shechem on multiple occasions, and had lived there for a period of time.
The two declared via social media their intentions to marry, police said – a claim Halimi's husband and mother disputed.
But some of the victim's relatives seemed to acknowledge the affair, and said that Kharoff murdered Halimi when she expressed her desire to go back to her husband.
According to Aharon Halimi's ex-wife, Ravid Boyar, Michal Halimi and Kharoff had known each other before Halimi's marriage, becoming acquainted as teenagers via social media.
While police initially suspected Kharoff had killed Halimi due to her desire to end their affair, later evidence pointed to terrorism as the motive.
During a court hearing in August, Kharoff denied that he had been involved romantically with Halimi, and claimed that he had attempted to kidnap her in a bid to win the release of jailed terrorists being held by Israel. After the hearing, he expressed his desire to murder more Jews. Saying he wanted "to kill all the Jews".
On Sunday, Kharoff was convicted following the signing of a plea bargain agreement, under which Kharoff admitted that he had murdered Halimi as a nationalistic act.
Kharoff rejected the initial motive suggested by police that the murder was the result of a spontaneous outburst of rage after Halimi attempted to end her relationship.
During the trial, investigators revealed that Kharoff had attempted to convince Halimi to travel with him to Shechem, a request Halimi refused. Kharoff later strangled Halimi, threw her to the ground, and smashed her head with a cement block. After he dumped sand, leaves, and a tire over the body to conceal it, Kharoff fled the scene.
As part of the plea bargain agreement, the defense has agreed to the prosecution's demand Kharoff be sentenced to life imprisonment. Prosecutors have also requested that Kharoff be forced to pay 258,000 shekels ($74,730) in damages, while the defense has argued that no monetary sanctions being included in the sentence.