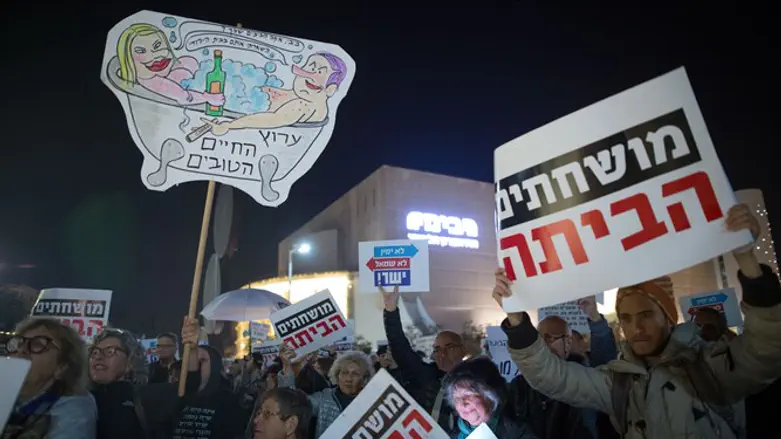 Weekly anti-Netanyahu demonstration in Tel Aviv
Flash 90
Graffiti against Prime Minister Binyamin Netanyahu, spray-painted on the walls of a building in central Tel Aviv, and including the words "Death to Bibi," greeted workers of the Tel Aviv municipality who arrived there this morning.
The police opened an investigation into the incident.
Minister Yisrael Katz (Likud) condemned the graffiti against the Prime Minister: "Graffiti in central Tel Aviv with the inscription 'Death to Bibi' is serious incitement and crosses a red line, no matter if the background is personal, ideological, or opposition to expelling labor infiltrators. We're approaching the edge of the abyss. The criminals must be quickly captured and punished to the utmost extent of the law," said Minister Katz.
Knesset Speaker MK Yuli Edelstein (Likud) also commented on his Twitter account, "Again malicious graffiti, this time against the Prime Minister. When will we understand that incitement leads to violence? It's okay to criticize, it's okay to disagree - but it's absolutely forbidden to incite."
Coalition chairman MK David Amsalem (Likud) wrote "we don't need graffiti in Tel Aviv to be shocked about what goes on here almost every day against our Prime Minister.
"Now that 'the writing is' - literally - 'on the wall',, put an end to it," Amsalem said.