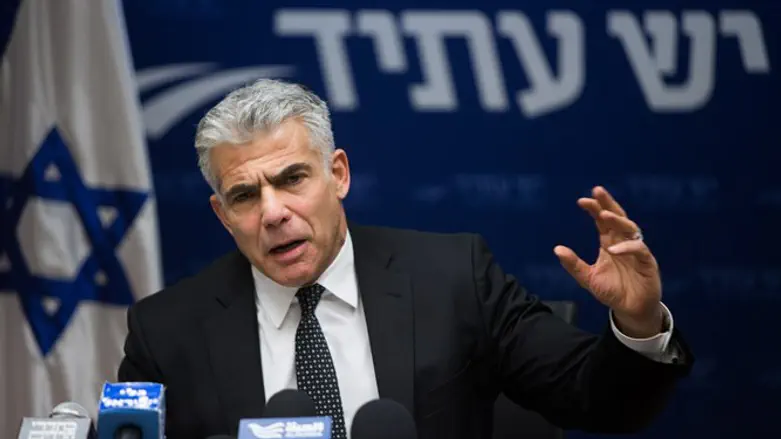 Yair Lapid
Yonatan Sindel/Flash 90
The Yesh Atid party will submit a bill on Sunday to the ministerial committee on legislation which would expand the number of haredi men required to enlist in the IDF and significantly curtailing deferments offered to full-time yeshiva students. The bill would also impose criminal sanctions on draftees who fail to appear when called up for service.
The new bill would reinstate the limits on army deferments for yeshiva students which were imposed in a law which was passed by the Knesset in 2014 with support from current Education Minister Naftali Bennett and Prime Minister Netanyahu.
Yesh Atid leaders say that the decision to submit the law was made in light of news that the haredi parties were working on a bill that would legally enshrine Torah study as a "supreme value", thus avoiding the need to legislate a new law granting haredi students draft deferments.
"Netanyahu cannot continue to dodge and squirm on this issue. Everyone should draft into the IDF, not only the suckers who don't have a party in the coalition" said Yesh Atid in a statement. "We were all suckers. The High Court of Justice ruled that there are no first-class citizens in Israel and second-class citizens, and a real right-wing would put the IDF and its soldiers ahead of political survival."
While there has been a recent uptick in the number of haredi soldiers, tens of thousands of yeshiva students still register for the annual draft deferments offered to full-time students.
The Equal Service bill was first passed in 2014 over the haredi parties vociferous opposition and placed limits on yeshiva student deferments. After Yesh Atid bolted the government, leading to new elections and the formation of a new Likud-led government, haredi MKs pushed for the passage of new legislation restoring the exemptions for yeshiva students.
However, the High Court of Justice ruled last summer that the exemptions granted to haredim are discriminatory against the communities who do not receive exemptions, giving the coalition a year to legislate an alternative.
Recent reports have said that the effort to pass a new law have run into trouble as the Yisrael Beytenu party has sworn to oppose it. As a result, the haredi factions are examining an option to legislate a basic law that recognizes Torah study as a "supreme value", which would block the High Court from striking it down.