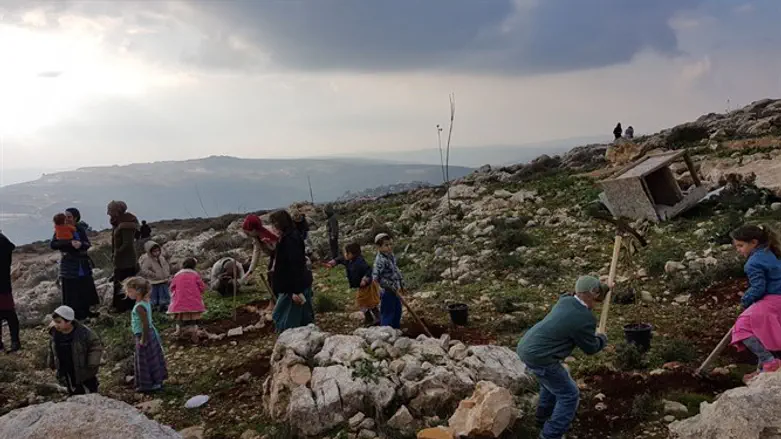 Treen planting in Yitzhar
Tzipi Shlissel/TPS
After the attack on thirteen-year-olds in Kutzra in November, Arabs from the village of Urif attacked a children's Tu Bishvat festive planting event that took place this afternoon in Yitzhar, reported 0404 News.
Arabs threw stones, hitting a youth about 18 years old in the head. The youth suffered light injuries and was evacuated to a medical unit to receive medical treatment. An IDF and Border Police force that arrived at the area pushed the Arabs back towards the village.
Youth who was lightly injured in attack (Otzma Yehudit)
In November, twenty-five 13-year-olds on a class trip celebrating the Bar Mitzvah of the youngest student were ambushed by dozens of Arabs hurling stones down at them from a ridge overlooking the entrance to a cave in eastern Samaria.
The children were escorted by two armed chaperones – both of them school staff members. The chaperones reported to the IDF that the class was under attack by stone-throwers, but were forced to defend the children by themselves for a full hour before soldiers arrived at the scene.
In the meantime, the hikers came under a barrage of stones and hid in a nearby cave.