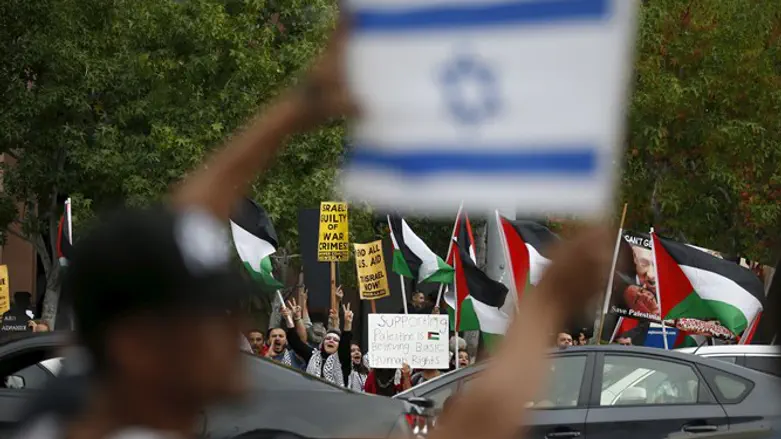 Protest and counter protest in California (illustrative)
Reuters
JTA - Protesters gathered outside of an Arab-style bakery and restaurant in Oakland, California to protest a life-size mural in the shop featuring convicted Palestinian terrorist Rasmea Odeh.
Sunday's vigil also protested a book reading and signing by Sunaina Maira, an Asian-American studies professor at the University of California, Davis of her new book about boycotting Israeli academic institutions, the East Bay Times reported.
The vigil is part of a series of protests against the mural by a group called Oakland United Against Hate, the newspaper reported.
"In Oakland, a community devastated by violence, this kind of glorification of terror and violence is just inappropriate, so we're here to express our dissatisfaction," protester Faith Meltzer told the East Bay Times. "This is about hate in our community, the normalization of violence in our community — and that's why we're here."
About 15 people from local social-justice groups, including the Arab Resource and Organizing Center, who support the eatery, monitored the protest. Several months ago, owner Reem Assil filed for a restraining order against at least one of protesters, but was never granted the order. Marshall Schwartz, one of the protesters, told Arutz Sheva that "Reem filed for an injunction against the three members of our group she could name (all of whom were present on Sunday), but never was granted one. She eventually dropped the suit because of the expense and her nonexistent chance of winning. One of the three has now countersued, and stands a reasonable chance of succeeding."
Odeh spent 10 years in an Israeli prison for her role in a 1969 bombing attack at a Jerusalem supermarket that killed two Hebrew University students, Leon Kanner and Eddie Joffe. Israel jailed Odeh for life, but she was released in a prisoner exchange with the Popular Front for the Liberation of Palestine in 1980 and immigrated to the United States from Jordan. She has said her confession to the bombing was the result of severe torture by Israeli security forces, a claim which Israel has called a total fabrication. .
Odeh obtained her US immigrant visa in 1994 and her citizenship in 2004. In both applications, she failed to disclose her arrest and convictions in the bombings. She pleaded guilty to falsifying her immigration applications. She was deported to Jordan in September.
The bakery says on its Facebook page that it provides "the warmth of Arab hospitality through the discovery of the aromas, flavors, and techniques of the modern Arab street corner bakery." It also says: "Our vision is to nurture a strong vibrant community through the rich experience of Arab food and culture."
Reem told the San Francisco Eater in June that she "put Rasmea up there because she is an emblem of resilience." She added: "She reminds me that as an Arab woman, I should never be afraid to speak up against injustice, no matter what the consequence." She said that she thought the "attacks" on her establishment were part of the increased violence against Arabs and Muslims - although there was no violence - brought about by the political climate, and not about the Israel-Palestinian conflict.