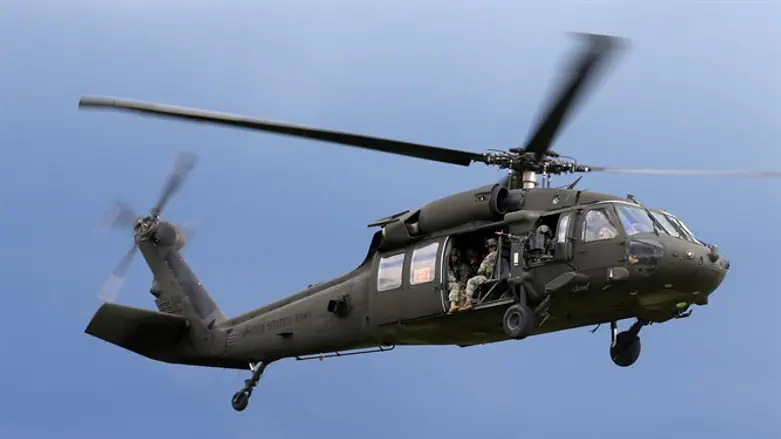 U.S. Army Black Hawk helicopter
Reuters
The United States on Sunday delivered another two Black Hawk helicopters to Jordan, a move aimed at helping protect the kingdom's borders and counter the threat from Islamist terrorists, AFP reported.
The helicopters were handed over at the King Abdullah II Air Base in northeast Jordan, according to the news agency.
They were the last batch of 12 Black Hawks delivered to Jordan since March 2017. In March of 2016, Jordan received eight Black Hawks from Washington.
An American embassy statement said the aircraft "will strengthen the Jordan Armed Forces (JAF), its Quick Reaction Force and Jordan's security".
"The United States is committed to supporting the JAF's efforts to protect Jordan's borders, counter-terrorism, assist in civil defense operations, and defeat ISIS through the international coalition," it said, using an acronym for the Islamic State group.
Jordan is a key recipient of American financial aid and a partner in the U.S.-led coalition battling ISIS in neighboring Syria and Iraq.
"The United States and the Hashemite Kingdom of Jordan have a historic and enduring relationship, built on shared values and shared interests," said U.S. embassy charge d'affaires Henry Wooster.
"Our military partnership epitomizes our mutual goals for a secure and stable region. Today's ceremony marks the beginning of a new JAF capability in the form of a state-of-the-art UH-60 Black Hawk fleet," he added.
Last year, the United States allocated $470 million to Jordan's army and air force, the American embassy said.
This included pilot and maintenance training, spares, ground equipment, weapons, ammunition and shelters for the Black Hawks, it added.
Three years ago, Washington said it would increase overall U.S. assistance to Jordan from $660 million to $1 billion annually for between 2015 and 2017.