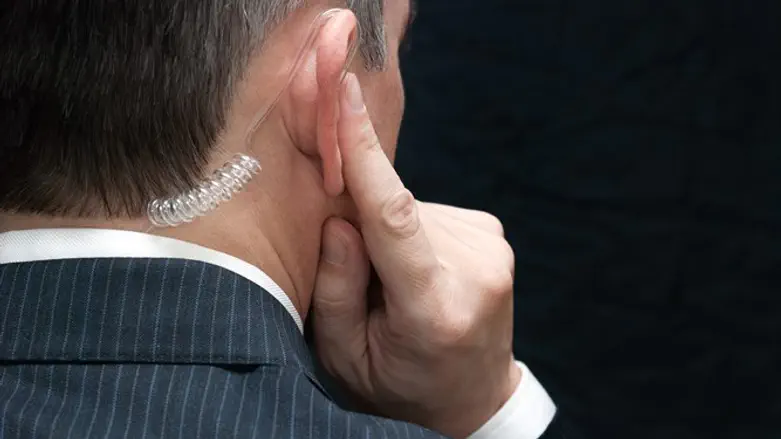 Shin Bet bodyguard
iStock
An Israeli journalist alleges that he was forced to undergo an invasive strip search on Sunday as revenge for criticizing the government for forcing female reporters to stand behind their male counterparts at the Western Wall during U.S. Vice President Pence's visit last week.
Maariv's Yanir Kozin dramatically recounted on Facebook how he was taken aside for additional screening when attempting to cover Sunday's cabinet meeting at the Prime Minister's Office. Kozin was banned from the meeting after he refused to remove his pants.
Kozin wrote that the timing of the invasive search was suspicious, as he is often at the Prime Minister's Office and is well known by the guards, and wondered if the extra screening was retaliation for the harsh criticism he hurled at the government for dividing journalists along gender lines at the Kotel.
"The humiliation of journalists at the Prime Minister's Office continues," said Kozin. "Journalists who come to do their job, especially those who are there every single week, must be allowed to do their job."
Kozin's ordeal caused a storm of protest among his fellow diplomatic correspondents, who fired off a letter alleging that their colleague was disrespected. "On behalf of the diplomatic correspondent, I would like to express our vigorous protest in which the political correspondent of Maariv and the Knesset channel, Yanir Kozin, was involved in the security check-in at the entrance to the office," read the letter.
"Kozin underwent a physical examination, with which he cooperated, until the stage when he was asked to pull up his pants... These cases add to another series of testimonies about invasive checks by media personnel who have a valid GPO (Government Press Office) certificate - even though the subjects of the ID undergo a preliminary security investigation, their identity is known in advance to the security and security bodies."
Journalists have frequently bristled at the stringent security checks that they must undergo when governing events starring senior Israeli officials. However, a former agent in the Israel Security Agency's (Shin Bet) personal protection unit laughed off the idea that a reporter would face invasive screening as a result of criticizing the government. "Even if the Prime Minister asked for it we wouldn't agree, and they wouldn't dream of asking. It's unprofessional," he told Arutz Sheva.