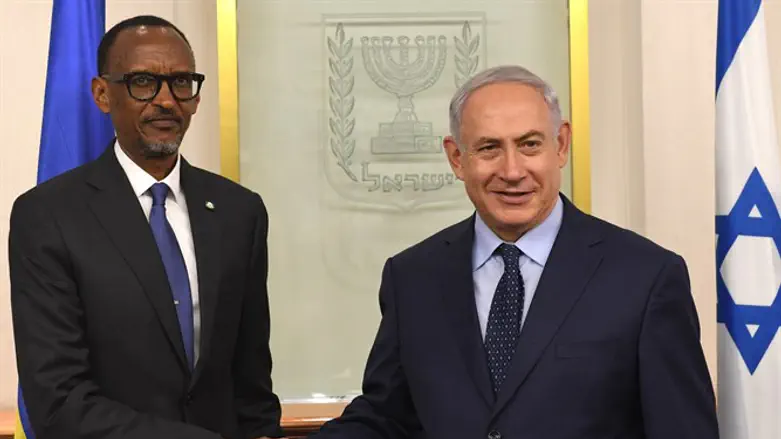 Prime Minister Binyamin Netanyahu meets with President of Rwanda Paul Kagame
Flash 90
Prime Minister Binyamin Netanyahu clarified today at a meeting of Likud ministers that Rwanda is the safest country to which infiltrators can be sent.
"There are 180,000 refugees who live there under UN auspices, so claims of danger are a joke," Netanyahu was quoted as saying at the meeting.
Prime Minister Netanyahu met last week with Rwandan President Paul Kagame at the Economic Forum in Davos, Switzerland.
The Prime Minister's Office said that Netanyahu and Kagame discussed the issue of asylum seekers. In a tweet sent from the official Twitter account of the Rwandan government it states that "In these times of global migration crisis, Rwanda wishes to reiterate its firm determination to contribute, as much as possible, to the issue of men, women and children who find themselves on the treacherous road of exile. Rwanda's position on migrants, wherever they may originate from, was informed & shaped by a sentiment of compassion towards African brothers & sisters who are today perishing in high seas, sold on the markets like cattle or expelled from countries in which they sought shelter."
Rwanda has been under pressure for reaching an agreement with Israel and another tweet tried to neutralize that pressure, saying "Rwanda is ready to help in whatever limited way it could, by welcoming anyone arriving at its borders in need of a home, voluntarily and without any constraint. In reference to the rumors that have been recently spread in the media, the Government of Rwanda wishes to inform that it has never signed any secret deal with Israel regarding the relocation of African migrants."
About two months ago, Rwandan Foreign Minister Louise Mushikiwabo said that her country was willing to accept some 10,000 African asylum seekers from Israel. "If they feel comfortable coming here, we're ready to accept them," she told the New York Times.
Rwandan Foreign Minister Louise Mushikiwabo
צילום: Reuters