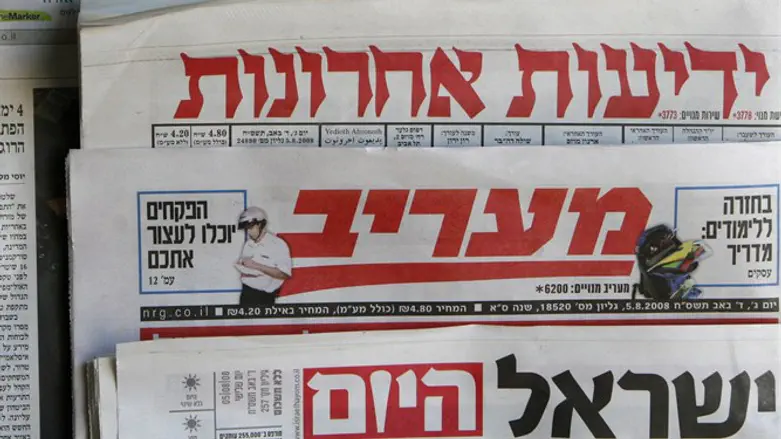 Israeli newspapers (illustrative)
Olivier Fitoussi /FLASH90
A Target Group Index (TGI) survey showed that Israel Hayom is still the country's leading newspaper, with Yediot Ahronot coming in second.
The third most popular newspaper (6.2% exposure) is Arutz Sheva's Besheva newspaper, popularly known as "the Religious Zionist newspaper." Despite its image, the paper has many haredi and secular readers.
Extreme left-wing Haaretz received 5.9% exposure, while Maariv received 5.7%, Makor Rishon 3.8%, and Globes 3.1%.
The survey also found that newspapers' popularity is continuously dropping. Israel Hayom, which previously had an exposure rate of 36.7%, fell to 34.4.% since July 2017, and Yediot Ahronot fell from 32.5% to 30.6% in the same period. However, Haaretz's readership rose from 3.9% to 4.9% for their newspaper, and from 5% to 5.9% for their expanded weekend edition.
At the same time, Maariv's free morning paper rose in popularity from 5.3% to 5.6%, and its expanded weekend edition showed a similar rise.
According to TGI, the popularity of Israel's Kan Bet radio dropped from 22.4% to 20.7% between July and December 2017, while Army Radio's popularity rose from 22.7% to 24.1% during the same months.
Galgalatz's popularity rose from 33.6% in January-June 2017 to 34.5% during the second half of the year. Israel Radio returned to 2.4% popularity, after it spent half a year with just 2% popularity. The religious Kol Hai Radio, on the other hand, dropped in popularity from 5.2% to 4.7%, and Kol Israel Radio's "Reshet Moreshet" dropped in popularity from 3.3% to 2.6% during the same period.