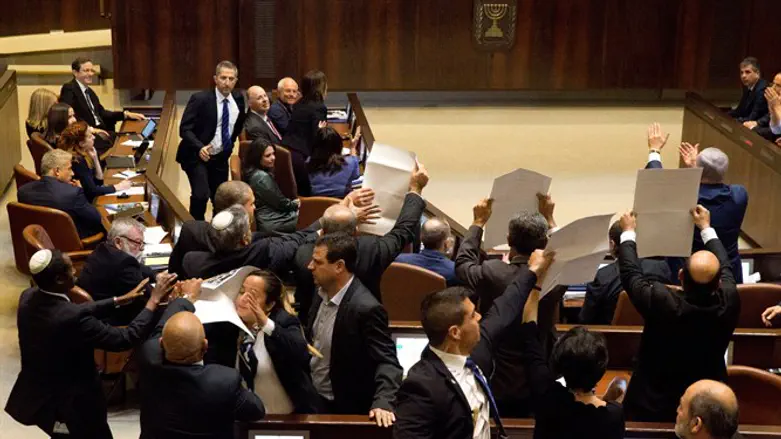 Arab MKs protest Pence visit
Reuters
The Hamas terrorist group on Monday evening expressed support for the MKs of the Joint List who protested U.S. Vice President Mike Pence's speech in the Knesset.
"Hamas praises the role of the Palestinian members of the occupying Israeli Knesset in the resistance against the racist speech of Mike Pence against Jerusalem," the organization said.
"Jerusalem is the eternal capital of Palestine," added Hamas.
The MKs, who had earlier vowed to boycott Pence's address, attempted to hold a protest in the Knesset Monday against the Trump administration, with some holding placards reading "Jerusalem is the capital of Palestine".
The protest, which was held in violation of Knesset regulations, was quickly broken up by Knesset officials, who escorted the MKs involved out of the chamber.
During his speech, Pence vowed that the U.S. embassy would be moved to Jerusalem before the end of 2019, and reaffirmed the importance of the U.S.-Israel alliance.
Pence arrived in Israel Sunday evening, kicking off a three-day visit of the Jewish state, accompanied by his wife, Karen. The trip is the first visit by Pence to Israel since he took office in January, 2017.
The Vice President, who was originally slated to visit Israel on December 18, had planned to meet with Palestinian Authority (PA) chairman Mahmoud Abbas.
Following President Donald Trump's December 6th declaration recognizing Jerusalem as Israel's capital, however, the PA announced that Pence, as a senior figure in the Trump administration, was persona non-grata in the PA.