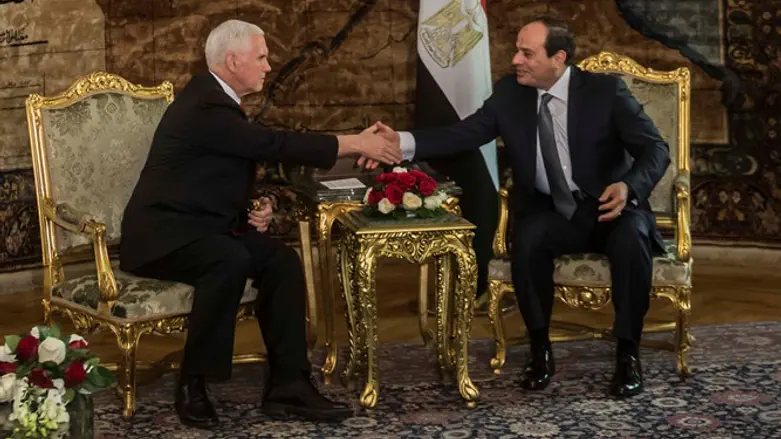 Pence and Sisi
Reuters
U.S. Vice President Mike Pence told Egyptian President Abdel Fattah Al-Sisi on Saturday that the United States would support a two-state solution for Israelis and Palestinian Arabs if the two sides agreed to it, Reuters reported.
Pence was in Egypt on the first leg of a three-country tour that includes stops in Jordan and Israel.
"We heard President Al-Sisi out," Pence told reporters after the meeting, saying the Egyptian leader described his objection to Trump's decision as a "disagreement between friends."
Pence said he assured Sisi that the United States was committed to preserving the status quo of holy sites in Jerusalem and had come to no final resolution on boundaries for the two parties.
"My perception was that he was encouraged by that message," Pence said, according to Reuters.
The Egyptian presidency said in a statement that Sisi noted that only negotiations based on a two-state solution could bring an end to the conflict adding that "Egypt would spare no effort to support this."
Pence said he also pressed Sisi about two Americans who have been imprisoned in Egypt since 2013, as well as for reform of Egypt's restrictive laws on non-governmental organizations.
In his meeting with Egypt's president, Pence pledged firm U.S. backing in the nation's fight against Islamist militants and said ties between the two countries had never been stronger after a period of "drifting apart."
"We stand shoulder to shoulder with you in Egypt in the fight against terrorism," Pence told Sisi.
U.S.-Egypt ties were strained under the Obama administration, which suspended American military aid to Egypt following the 2013 ouster of Islamist President Mohammed Morsi. Obama released the aid two years later.
After Trump's election, Sisi praised the new president and said he expected greater engagement in the Middle East from his administration.
Later, however, the United States cut or delayed some $300 million in military and economic aid over human rights concerns.
The tension was resolved when Trump called Sisi and stressed he was keen on developing the relationship between their countries and overcoming any obstacles that might affect it.
Pence's trip to the region is the highest-level visit by a U.S. official to the region since December, when Trump recognized Jerusalem as Israel's capital, in a move opposed by Arab leaders including Sisi.
While Sisi's government denounced Trump's Jerusalem decision, a senior Egyptian official told the Israel Hayom newspaper following the move that his country had no interest in confronting the United States over it.