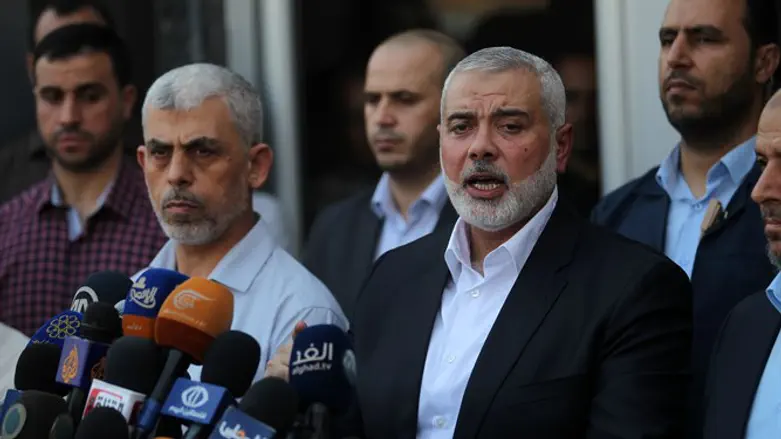 Hamas leaders in Gaza
Abed Rahim Khatib/Flash90
The Israeli government announced Monday that it would no longer permit members of the Hamas terrorist group or their immediate family members in Gaza to enter Israel with entry permits issued out of humanitarian concerns, including to seek medical treatment in Israeli hospitals, as opposed to medical facilities in the Gaza Strip.
The announcement was made Monday after the government acknowledged to the Supreme Court that it had hitherto not fully implemented a security cabinet decision which included sanctions targeting Hamas leadership.
Last November, a legal team assembled by the Goldin family accused the government of not implementing the cabinet decision, and filed an appeal with the Supreme Court to intervene.
In August 2014, IDF soldiers Hadar Goldin and Oron Shaul were killed during fighting with the Hamas terror organization. Their bodies were both taken into captivity by Hamas terrorists in the Gaza Strip, and have been held there since. Goldin's family has demanded the government aggressively target Hamas' leadership to pressure them into returning the remains of both Oron Shaul and Hadar Goldin for burial in Israel.
While the security cabinet had ruled that the government should deny entry to both senior Hamas members and their families, as well as to restrict the visitation rights of Hamas terrorists jailed in Israel, the Goldins contended that the government had failed to fully implement the decision, limiting only a handful of Hamas leaders' ability to enter Israel.
On Monday, in response to a Supreme Court petition by the Goldin family, the State admitted that it had hitherto not fully implemented the security cabinet decision. In the State's response, the government claimed that the National Security Council had determined that it lacked the information needed to determine which individual Hamas members and their families were covered by the ban.
However, the State added that it now possessed the ability to single out all senior Hamas members and their families. As such, the government ordered the Coordinator of Government Activities in the Territories to bar entry to Hamas members and their immediate family, even for "humanitarian concerns".