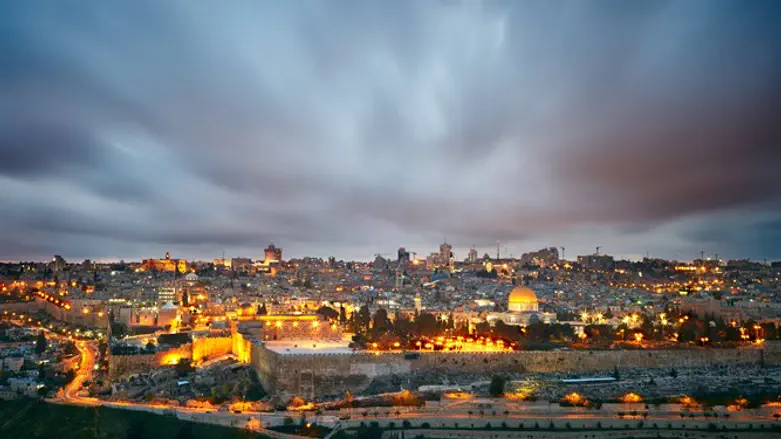 Jerusalem, Israel's capital
iStock
Egyptian intelligence officer Captain Ashraf al-Kholi told media outlets to support US President Donald Trump's recognition of Jerusalem, The New York Times reported.
Audio recordings of four phone calls obtained by the Times reveal al-Kholi as repeatedly asking, "How is Jerusalem different than Ramallah, really?"
The Times contacted both the Egyptian government and al-Kholi, but neither responded to requests for comment.
One talk show host, Azmi Megahed, said he is "friends with Ashraf" and the two "talk all the time." He also said, "Another intifada would be bad. I have no problem saying all of the things you have heard in that call in public."
"We should have buses pick up all the people who say they want to go fight for Jerusalem and actually drive them to Jerusalem. Go fight if you are so tough. People are sick of the slogans and all that. I only care about the interests of my country."
Al-Kholi believes that an intifada would not be in Egypt's national interests, because it would revive both the Islamists and Hamas, two groups Egypt is struggling to subdue.
He did, however, say that "what matters is ending the suffering of the Palestinian people" and that there was no real issue with Ramallah being the capital of a future Palestinian state, if that is what is necessary for the state's creation.
Meanwhile, Turkey's state-run Anadolu Agency reported both Egypt and Saudi Arabia as supporting Jerusalem's "historical and legal status."
Saudi Arabian Foreign Minister Adel al-Jubeir and Egyptian Foreign Minister Sameh Shoukry discussed Arab efforts to defend Jerusalem's former status quo, as well coordinating efforts for Arab security.
At an Arab League meeting Saturday, the foreign ministers of six countries discussed US President Donald Trump's recognition of Jerusalem as Israel's capital.
At the meeting, Jordanian Foreign MInister Ayman al-Safadi said that "there will be no security in the region without the establishment of a Palestinian state."
"All our decisions will be made in accordance with the interests of the Palestinians," he added.