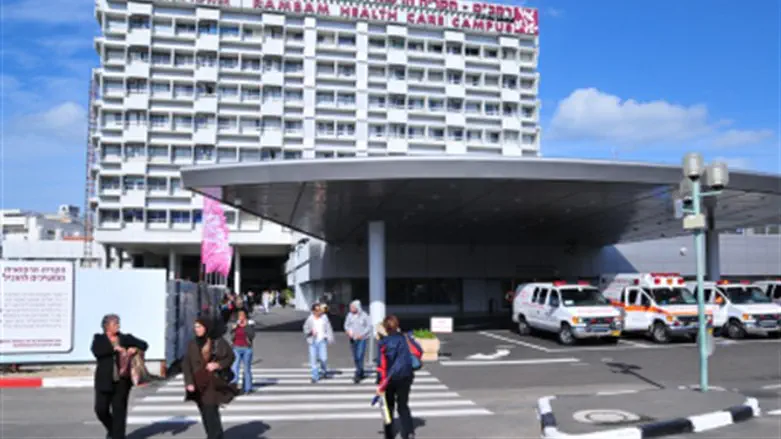 Rambam Hospital
Flash 90
A British family has set up a crowdfunding campaign in an effort to bring their 6-year-old daughter to Israel for special surgery that will allow her to keep her leg.
Kyra Warrell of Brighton, located on the south coast of England, is afflicted with proximal focal femoral deficiency, which will leave her left leg about 8 inches shorter than her right if left untreated.
Doctors at Britain's National Health Service decided that an above-the-knee amputation, to allow for a prosthetic limb, is the best option. But Kyra's parents, Rima and Neil Warrell, want their daughter, who loves dancing and gymnastics, to be able to keep her leg.
They have discovered a special leg-lengthening surgery performed by an Israeli-born physician, Dror Paley, who is internationally recognized for his expertise in limb lengthening and reconstruction. Paley, the director of the Paley Institute in West Palm Beach, Florida, has performed more than 20,000 limb lengthening and reconstruction-related procedures, according to the institute's website.
While Paley, who trained in orthopedic surgery at the University of Toronto Medical School, practices in the United States, he will be in Israel at the beginning of February and is willing to perform the first surgery at Rambam Hospital in Haifa.
The Warrells, who are not Jewish, told the London-based Jewish Chronicle that they cannot afford to take Kyra to the United States for the surgery, which Paley has said can give her a fully functioning leg by the time she reaches age 16.
The crowdfunding campaign, Step-By-Step with Kyra: The First Hurdle, aims to raise the approximately $78,500 needed for the surgery, the first of three procedures that will take place before Kyra is 16. They told the Jewish Chronicle that they will sell their home to fund the nearly $122,000 second operation that would take place in 2019. Paley works once a year at Rambam Hospital to make operations more affordable for non-US patients, according to the crowdfunding page.
Meanwhile, the family has set up a twitter account called @stepwithkyra to chart her progress and that of her supporters.