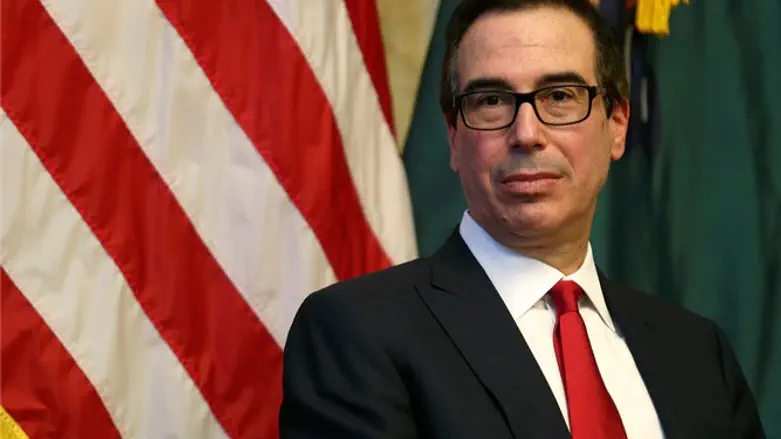 Steven Mnuchin
Reuters
The United States on Thursday imposed sanctions on five entities tied to Iran's ballistic missile program, seeking to punish Tehran for its management of the economy as thousands of Iranians protest against their government, The Wall Street Journal reported.
Treasury Department officials blamed Iran's Islamic Revolutionary Guard Corps (IRGC) and other parts of the government for funding proxies across the Middle East despite the needs of the Iranian people at home.
"As the Iranian people suffer, their government and the IRGC fund foreign militants, terrorist groups, and human rights abuses," Treasury Secretary Steven Mnuchin said on Thursday.
"We will not hesitate to call out the regime's economic mismanagement and diversion of significant resources to fund threatening missile systems at the expense of its citizenry," he added.
In addition to its nuclear aspirations, Iran's ballistic missile program remains a concern as well. The Islamic Republic has several times test-fired ballistic missiles in recent months, raising the ire of the West.
The United States has already imposed sanctions on Iran, saying its missile tests violate UN resolutions. Iranian President Hassan Rouhani has stressed that Iran will continue to produce missiles for its defense and does not consider that a violation of international agreements.
The entities sanctioned on Thursday, which the administration has assessed are related to one another, are responsible for the development of guidance systems, solid propellants, motor cases and research for the country's missile program.
Meanwhile, Trump administration officials said they would be watching closely for human rights abuses committed against protesters.
"We have ample authorities to hold accountable those who commit violence against protesters, contribute to censorship, or steal from the people of Iran," State Department spokeswoman Heather Nauert said, according to The Wall Street Journal.
Officials at Iran's United Nations mission didn't respond to a request for comment.