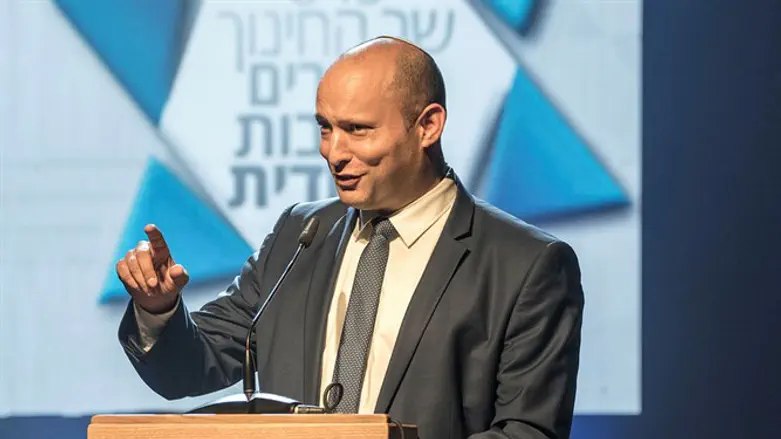 Bennett
TPS/Kobi Richter
Left-wing Israeli media figure Raanan Shaked slammed Education Minister Naftali Bennett this evening, Wednesday, over Bennett's initiative to encourage IDf enlistment.
Bennett announced yesterday, Tuesday, the program, which aims to increase enlistment by fostering school programs that strengthen feelings of connection to the IDF.
"Today we embark on a comprehensive program to increase recruitment motivation for meaningful IDF service," noted Bennett. "Along with excellence in math, English, and other professional fields, we in the Education Ministry are also working to instill Zionist values."
"I therefore instructed the education system to join forces with the IDF and the Defense Ministry to increase motivation to serve in IDF combat units. In the State of Israel's 70th year, serving in the IDF is not only an ordinary civilian duty, but a great privilege and a primary national mission," added the Education Minister.
During Army Radio's program "Hamila Ha'achrona" (The Last Word), Shaked called Bennett "fascist" and "Benito," in reference to the former Italian dictator behind the rise of fascism.
In response, Justice Minister Ayelet Shaked speculated whether Raanan Shaked would be suspended from Army Radioas pundit Irit Linur had a week prior.
Linur had taken issue with President Rivlin's apparent support for the weekly anti-corruption rallies across Israel, which often target the right-wing. "The only thing you've been able to do is serve as a deputy minister, and now, as a president and national symbol, you call on citizens to go out into the street [against the current government]? You insolent piece of work! Who do you think you are?" asked Linur on her Tuesday show.
Army Radio head Shimon Alkabetz decided to suspend Linur as a result, saying in a statement that "Irit Linur's comments on the president were not fitting, nor was the way they were expressed."
"A week ago, Irit Linur called the President of the State 'insolent.' An inappropriate statement. She agreed to apologize, but in any event was suspended for a week," the Justice Minister wrote on Twitter.
"Several minutes ago, Raanan Shaked called Education Minister Bennett a 'fascist' and 'Benito' because of a vital program for encouraging IDF enlistment. He doesn't apologize. What, in your opinion, will the head of Army Radio do to Raanan Shaked?" she asked.