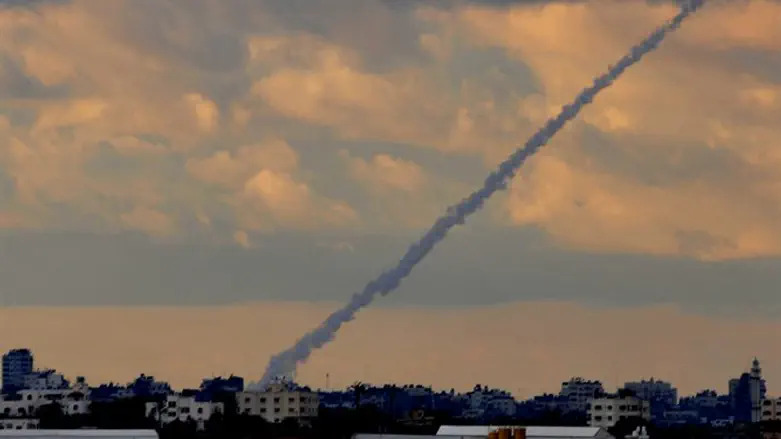 Rocket fired from Gaza (archive)
Flash 90
Two rockets were shot from Gaza today, Wednesday, within two hours of each other.
Both rockets landed in open areas in the Eshkol region near Gaza.
Nobody was harmed in the attacks and no damage has been reported.
In both instances, a "Red Alert" emergency siren was not sounded.
The incidents come after terrorists on Monday night fired a rocket from Gaza that exploded in an open area in the Gaza Belt region.
In that incident, an emergency was similarly not activated. According to Channel 2, the IDF began an investigation into the reason for the failure of the warning system, which should have sounded in light of the rocket's proximity to a community.
Last Friday, Gaza terrorists fired three rockets towards southern Israel in the middle of an event marking the 24th birthday of kidnapped and murdered IDF soldier Oron Shaul, whose body has been held by Hamas since the 2014 Operation Protective Edge.
Two of the rockets were intercepted by the Iron Dome system, while a third landed in an inhabited area and caused damage to a building, but no casualties.
Today, it was reported that the IDF completed an investigation into last Friday's shooting attacks.
According to the investigation, the rockets were standard Iranian weapons similar to those fired on November 30 by the Islamic Jihad at an IDF post in the northern Gaza Strip.
This, along with the fact that the attacks coincided with birthday celebrations for captured soldier Shaul, led the defense establishment to estimate with high probability that this time too, the rockets were fired by Islamic Jihad, the second largest terrorist organization in the Gaza Strip - supported and funded by Iran.