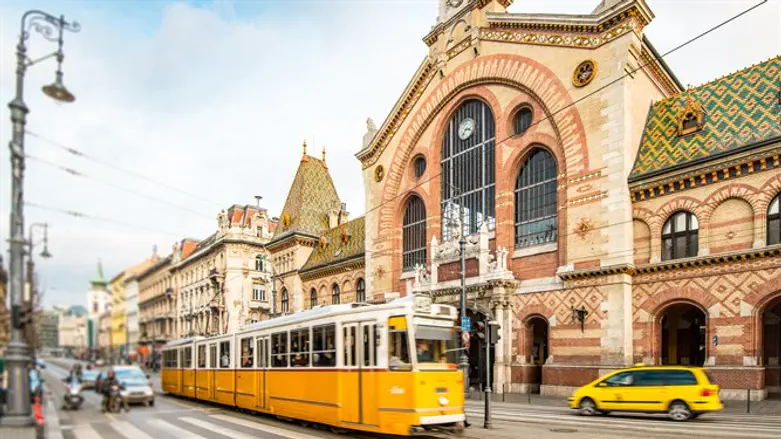 Central Market Hall, Budapest, Hungary
iStock
Members of the Jewish community of Budapest attended an event to introduce a cultural center for local Jewish history in an area of the city that saw the dawn of settlement by Jews there.
Among those visiting the building earlier this month were the mayor of the 7th district, known as Elizabethtown.
The mayor participated in a candle-lighting ceremony for Hanukkah, which was led by Shlomo Köves, the rabbi of the Chabad-affiliated United Hungarian Israelite Community, or EMIH.
The new building is a model home of a Jewish family in the 19th century. It is slated to be turned into a museum, dependent on a longer procedure under which the center receives permission from state authorities.
The building was renovated over several years by the municipality, which still owns the building. There are many similar buildings in the 7th district which currently remain unrestored. The cultural center will house temporary exhibitions accessible on the ground level of the building. Not all of its rooms currently are in use.
The building also will feature a library and research area dedicated to studying the history of the local Jews, and for collecting, cataloging and evaluating original documents. The building's interior yard, which is roofed, will host conferences, presentations and other cultural events. The space also includes a museum with programming for schoolchildren of all ages.
It is the first and only place in Budapest, where one can see traces of the assimilated local Jewish population, as it existed in the 19th and 20th centuries, before the Holocaust. It shows that Jews were living the life of everyday Hungarians, with only a few signs of their religious identity. The Jews of the capital were not separated and not closed into ghettos, but rather lived the life of modernized citizens. Even Jews were the models and the driving forces for the Hungarians to become the modern middle class.