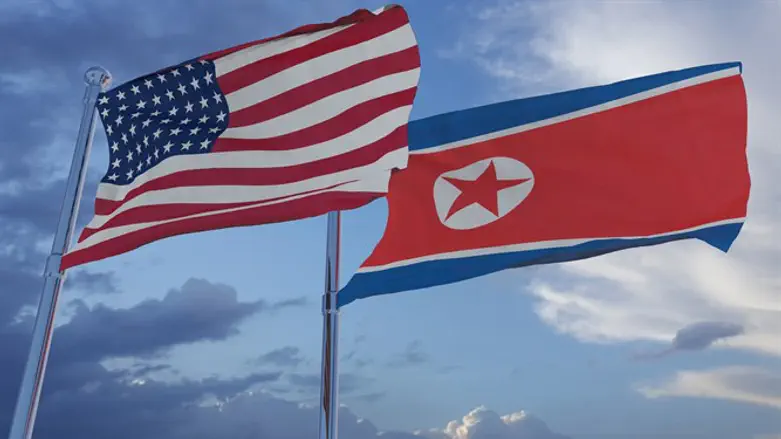 Flags of the United States and North Korea
iStock
The United States on Tuesday announced sanctions on two North Korean officials behind their country's ballistic missile program, Reuters reported.
The new U.S. steps were the latest in a campaign aimed at forcing North Korea to abandon a weapons program aimed at developing nuclear-tipped missiles capable of hitting the United States.
The U.S. Treasury named the officials as Kim Jong Sik and Ri Pyong Chol. It said Kim was reportedly a key figure in North Korea's efforts to switch its missile program from liquid to solid fuel, while Ri was reported to be a key official in its intercontinental ballistic missile (ICBM) development.
"Treasury is targeting leaders of North Korea's ballistic missile programs, as part of our maximum pressure campaign to isolate (North Korea) and achieve a fully denuclearized Korean Peninsula," Treasury Secretary Steven Mnuchin said in a statement quoted by Reuters.
Tensions on the Korean peninsula have risen markedly in recent months after North Korea's latest missile and nuclear tests, conducted in defiance of international pressure and United Nations resolutions.
Most recently, North Korea launched a Hwasong-15 missile, a new type of intercontinental ballistic missile (ICBM) which officials said can fly over 13,000 km (8,080 miles).
Pyongyang said following the launch that it had test-fired its most advanced missile, putting the U.S. mainland within range, and also declared itself to be "a responsible nuclear power"
Last Friday, the United Nations Security Council announced new sanctions in response to North Korea's November 29 test. Those sanctions sought to further limit North Korea's access to refined petroleum products and crude oil and its earnings from workers abroad.
North Korea declared the UN steps to be an act of war and tantamount to a complete economic blockade.
President Donald Trump has threatened to "totally destroy" North Korea if it attacks the United States while North Korea insists the world must now accept that it is a nuclear power.
While U.S. Secretary of State Rex Tillerson has said Washington is open to dialogue with North Korea, an unconfirmed report this week indicated that the United States is drawing up plans for a "bloody nose" military attack on North Korea to stop its nuclear weapons program.